2012 IFWTWA Conference Overview Day 2
by
Kathy Sullivan
Early the second day of the IFWTWA Conference a panel discussion was held. Michelle Winner was the moderator and had informative questions to ask the two panel members who were from Las Vegas magazines. Audience members were also able to ask questions that included how many times a writer should contact an editor using email. The session was very interesting for those writers dealing with print media. It was not as useful for those writers that deal with online media. It would have been helpful to have an editor from an online magazine on the panel.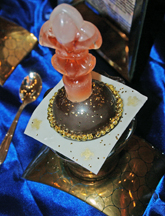 The next session was watching Pastry Chef Long Nguyen, from Sweet Surrender, demonstrate the making of a $750 cupcake. As he proceeded, he explained all of the ingredients he was using. Another writer and I agreed that we did not have the patience to take that long to make a cupcake even if we had the ingredients. At home she does not make something if it takes longer to make it than to eat it. Nevertheless, Chef Nguyen's demonstration had everyone closing in around the table with cameras watching with avid interest. We wondered who would buy a $750 cupcake. A hotel employee noted that only five of these cupcakes have been sold usually to people that want a once in a lifetime experience.
Between 11:30 until 1:15pm participants were encouraged to explore the properties of The Palazzo and Venetian.
Next a Marketplace was available. This gave writers and publications, tourism associations and the like the opportunity meet one on one. The Marketplace included restaurants, print magazines, Convention and Visitors Bureaus and a spa. This was a good opportunity for professional writers to network.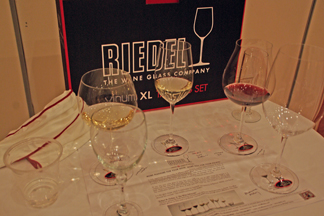 Next was the Riedel Wine Tasting that lasted an hour and a half. A representative for the Riedel company led the demonstration. Thomas Lamond had the group of attendees compare two white wines in variety specific Riedel Vinum XL glasses to the same wines in a joker glass. Two red wines in variety specific Vinum XL glasses were compared to a Vinum XL Chardonnay glass. Although the discovery was led by the presenter, participants kept the glasses and can experience comparisons at home.
The IFWTWA Conference ended Wednesday morning with a delicious breakfast.