Dine Around
by
Terry Sullivan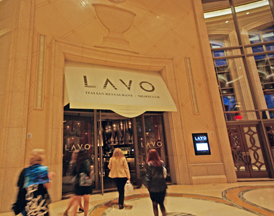 One of the highlights of the 2012 International Food, Wine and Travel Writer Association Conference was the evening Dine Around. Attendees were split into six groups. Each evening of the conference, two of the groups would go to three restaurants. We were in group one for the first evening and went to LAVO, Zine and Double Helix.
LAVO
Our group included eleven conference attendees and two staff members from The Palazzo and Venetian. This was a comfortable size for sharing conversation, food and drinks. Our first stop was LAVO an Italian restaurant in The Palazzo. LAVO is one of the few restaurants that started in Las Vegas first and then opened a second location in New York City. We sat on couches as several appetizers were served. One could easily spend the evening at LAVO just ordering the appetizers. Appetizers such as Crispy Fried Calamari, Tuna Tartare and Kobe Stuffed Rice Balls graced the table and the palate.
The restaurant was dimly lit giving it a cozy and romantic feel. Lighting fixtures were elegant as were the decorations. One wall had several urns hanging with water flowing from one into another. The bar area was nicely adorned with a vase of pink gladiolas on the counter. LAVO is a restaurant to go to often. Our appetizers were great and the decor is welcoming. The staff was friendly and interested that we were there.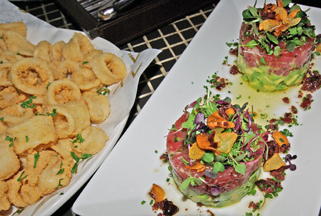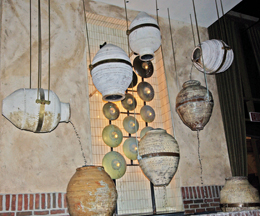 Zine
For our dinner entrée we headed to Zine Noodles Dim Sum also in The Palazzo. Red and black are predominant colors in this relaxing restaurant. Curved walls and reddish-orange balls add to the intrigue of the restaurant. The layout of the restaurant is one that offers intimacy. Zine means "fresh" and is an appropriate name for this restaurant that uses fresh ingredients to prepare the foods. We sat at tables that had been put together to accommodate our group and enjoyed an entrée including beef, bok choy and sea bass.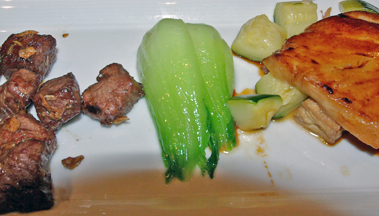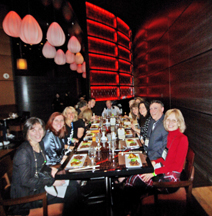 Double Helix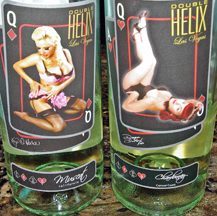 Our third stop was the Double Helix Wine and Whisky Bar also located in The Palazzo. Our group tasted three wines that are made specifically for the Double Helix. It is unusual for a wine bar to have their own winemaker and own portfolio of wines. The Double Helix portfolio has two labels, the "pin up" girls series and the Reserve Black Label series. The pin up series features pictures of show girls on the labels. We tasted the Double Helix 2009 Chardonnay and 2010 Muscat from this series. We also tasted the Reserve Black Label Cabernet Sauvignon. Our group was impressed with this wine. The Double Helix portfolio accounts for 60 to 65 percent of the wines sold at the bar.
The evening was magical. It afforded an opportunity to meet other conference attendees in a relaxed atmosphere.