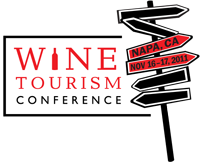 National Wine Tourism Conference

With roughly 6,000 wineries throughout the country wine travelers have a choice of destinations to explore. Some wineries are remote, however, most are clustered near others. This makes travel to a region a possibility whether it is for a day trip, weekend, a week or longer. Summer and fall are popular times to visit winery and vineyard tasting rooms. Winter and spring visits also have their charm.
Napa, California is the site for the 2011 National Wine Tourism Conference.
2011 Conference Highlights
November 16th
Wine Tourism and the Big Picture: How wine tourism fits into the global and local economies
9:15 AM: Welcome and introduction from conference organizers and the Wine Institute of California
9:30 AM: Welcome and Overview from Caroline Beteta, President of the California Travel and Tourism Commission
10:30 AM: Economics of Wine Tourism with Barbara Insel of Stonebridge Research and Steven S. Cuellar, Ph.D., Department of Economics at Sonoma State University
11:20 AM: What Makes a Great Wine Region with Ray Isle, Executive Wine Editor of Food & Wine; Leslie Sbrocco, author of Wine for Women; and Sara Schneider, wine editor at Sunset Magazine.
Growing Wine Tourism: Marketing your region, winery, or business
2:00 PM: Social Media as a Tool to Increase Wine Tourism with Liz Thach from Sonoma State University's Wine Business Institute and Marcy Gordon, marketing consultant and author of Come for the Wine
2:55 PM: Promotions, Festivals, and Events with Paul Wagner, founder of Balzac Communications and Marketing; Linea Gagliano from Travel Oregon; and Elizabeth Martin-Calder and Martin-Calder Productions
3:50 PM: Ratings Drive Traffic: Wine Ratings, Consumer Reviews, and other indicators (speaker to be announced)
5:00 – 6:30 PM Evening reception with Napa Vintners
6:30 – 8:30 PM Banquet Dinner provided by Legendary Napa Valley
November 17th
8:00 – 9:00 AM No-host breakfast meeting of wine tour operators
8:00 – 9:00 AM No-host breakfast meeting of wine and tourism associations
Improving the Wine Tourism Experience: Selling More of Your Product
9:00 AM: A Rising Tide Raises All Boats with Michael Mondavi,  Mondavi Family Wines; Allen Shoup, Long Shadows Vintners; and moderator Clay Gregory, Legendary Napa Valley
10:00 AM: Customer Service with Dixie Huey of Trellis Wine Consulting and Allan Wright of Zephyr Adventures
11:00 AM: Improving the Selling Process (speaker to be announced)
1:30 – 2:30 PM Sharing Best Practices: Come prepared to present your own best ideas about what has worked to promote wine tourism and to take notes on what has worked with other areas.
2:30 – 3:30 PM Future of Wine Tourism: Keynote speech with Dr. Terry Stevens, Stevens & Associates
3:30 – 4:15 PM Future of the WTC: Group discussion to evaluate the conference and discuss whether, where, and when we should hold another.