Wisdom Oak Winery
formerly Sugarleaf Vineyards
by
Kathy Sullivan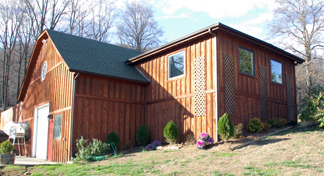 Summary: As of January 1st, 2013, owner Jerry Bias sent the following information, "In memory of the courage and wisdom that has been bestowed upon us, Sugarleaf Vineyards will now be called Wisdom Oak Winery."
Wisdom Oak Winery is located in an idyllic area near Charlottesville, Virginia. What began as a hobby has turned into a full-fledged winery and vineyard enterprise. Stop at Sugarleaf Vineyards and enjoy a relaxed, pastoral feeling along with a glass of wine.
Jerry Bias, a University of Virginia graduate, purchased the 126-acre property as an oasis, one where he might retire someday. He enjoyed wine and had traveled to European wineries. With support from friends, he decided to plant a small vineyard on the property. After the vines showed good growth a decision was made to add the winery in 2005. Jerry Bias owns the vineyard and winery.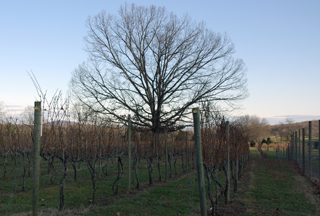 A long, narrow road takes one into the countryside where it opens up to a vineyard and tasting room. Be sure to notice the perfectly formed tree in the vineyard. This tree is the one artistically displayed on each wine label. The five acres of vines planted in 2001 consist of Chardonnay, Cabernet Franc and Cabernet Sauvignon. Grapes are also sourced from other Virginia growers. Romulus Pascall is the vineyard manager who conducted our tasting on the day of our visit.
The Sugarleaf Vineyards tasting room has a delightful ambiance. Natural light floods the L-shaped tasting counter. Visitors have views of the vineyard and the countryside. Double doors lead to a small balcony where visitors can watch the winemaking process and view the stainless steel tanks. The barrel room is under the tasting room. Stacked barrels fill the room.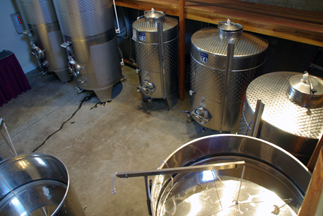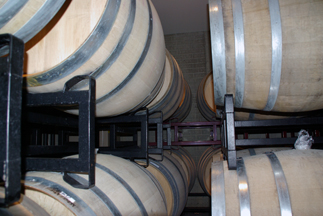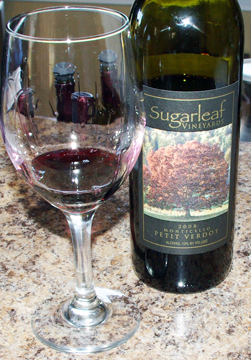 White Wines
Chardonnay 2007 had an aroma and taste of apple and citrus nuances. The finish was buttery without being heavily oaked. This wine was a blend of 55 percent stainless steel and 45 percent oak. Viognier 2008 was a blend of 80 percent Viognier and 20 percent Petit Menseng. The aroma was of floral and peach nuances. The taste was very smooth with peach notes. The finish had peach notes with a hint of oak. Petit Menseng 2007 was 90 percent Petit Menseng and 10 percent Viognier. The aroma had tropical and citrus nuances while the taste was creamy with fruit salad nuances. The finish was crisp. Vidal Blanc 2007 was produced in stainless steel. The aroma had floral nuances and the taste offered tropical fruit notes. The finish was slightly sweet and fruity.
Red Wines
Cabernet Franc 2008 was a ruby translucent color. The wine had an herbal aroma while the taste was of red fruit. There were tannins on the finish and red fruit notes. Petit Verdot 2008 was an opaque dark purple. The aroma and taste were of dark fruit. The crisp finish was fruity with bold tannins. Cabernet Sauvignon 2007 was a ruby translucent color. The aroma and taste were of black berries. The finish was of black berries and tannins. Cuvee Neubia 2007 was dark red and produced with free run Cabernet Sauvignon fruit. The aroma and taste offered blackberry nuances. The finish also had blackberry nuances with tannins.
Enjoy a visit to a winery in the delightful countryside of Charlottesville, Virginia.
Wisdom Oak Winery
3613 Walnut Branch Lane
North Garden, Virginia 22959
GPS: N37º 56.257' W78º 36.834'
---
Visit these Virginia wineries and wine tour groups that partner with Wine Trail Traveler.