2013 Day 1 Conference Overview
by
Terry and Kathy Sullivan

The first day of the conference began in early morning with Anthony Swift welcoming the attendees. Igor Barbaric spoke about Croatia and its wine history. He mentioned that the Association of Wine Producers wants to put Croatia on the wine map. They formed Vina Croatia, a marketing group that takes Croatian wines to tastings in London and New York City. The next speaker was Zlatan Muftic from the Zagreb Tourist and CVB. He welcomed the attendees to Zagreb and spoke of the importance of tourism and wine. Finally Pavle Marković of Ban Tours welcomed the group.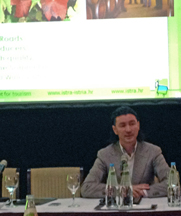 The keynote speaker was Denis Ivošević of the Istria Tourist Board. He shared many statistics about tourism in the Istria region of Croatia such as:
7 wine trails
120 wine producers
50 high quality
500 wine sommeliers
155,000 yearly wine visitors
Ivošević the went on to mention that wine tourists often visit other sites. There is an active olive oil production in Istria. He provided the statistics.
7 olive oil routes
145 producers
85 high quality
520 olive oil sommeliers
60,000 yearly olive oil visitors
Ivošević mentioned how interesting that Istria is the only area in the world that has more olive oile sommeliers that wine sommeliers. He went on to talk about the truffle industry in the area.
The presenters during the opening managed there time very well. This gave the attendees chances to ask questions.
Session 1.1
"The Growing Demands of Wine Tourism by Melba Allen" (Oeno.com, France)
Melba Allen shared statistics with the attendees. There are changes in categories such as wines produced, acerage of grapes and wine consumption. France has fallen from first place in all those areas while other countries shifted positions. Italy is the number one wine producing country, while the United States is the number one in wine consumption.
Melba introduced a new website that she is helping to develop. The site will offer online wine tastings and gentle wine education that helps guide tasters through the experience and helps them evaluate a wine. Users can look at their ratings and compare there ratings to a trained panel of raters. Visit the website at thewineprofilers.com to set up an account.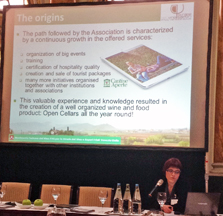 Session 1.1
Chiara Tuppy (pictured) from Strade del Vino e Sapori Friuli Venezia Giulia, Italy enthusiastically presented "The Ups and Downs of Combining 3 Wine Routes in the Friuli Venezia Giulia Region - Lessons to be Learnt." This organization emphasizes not only the wines of three areas but the specialties of each region. They work with entrepeneurs, local institutions and citizens. This includes both food and wine. The website offers a great deal of information, a wonderful source of information in Italian.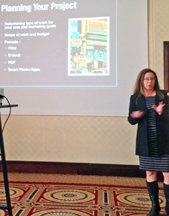 Session 1.2
Impacting Regional Tourism with Customized Wine, Food & Travel Guides
Marcy Gordon from Come for the Wine offered an inciteful presentation "Impacting Regional Tourism with Customized Wine, Food & Travel Guides," looking at the publishing industry in regard to wine travel.
Marcy made several important points, noting that the more than 14,275 print and E-books were published last year however less than 200 were about wine travel. Print travel book sales are lower now. At the same time the sale of apps and eBooks has grown. Traditional travel guides offer little in the way of winery information for wine tourists.
After carefully analyzing these content types, Marcy went on to give details on planning your writing project. Near the end of the session, she emphasized the importance of having permission to use photos and maps, noting that most maps are copyrighted. The presentation ended with helpful suggestions for eBook and ePub Conversion Tools and a list of Smart App Resources.
Session 1.2
Pramod Krishna presented "Wine Tourism in India." He spoke of the emerging importance of wine in India, the increasing number of wineries, wine production and wine consumption and wine tourism. India now has 93 wineries with 75 of them near Maharashtra. There are five organized wine trails. Pramod went on to mentioned that India does have challenges with its wine travel. For many producers, wine travel, tasting rooms and wine tasting at the winery is not a priority.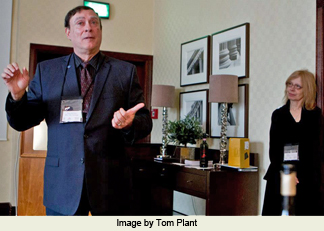 Session 1.3
Terry and Kathy Sullivan presented "Experiences that Cultivate Brand Ambassadors" during this session. We began this session with the adage "It's all about the experience." Three skits added a different experience for conference attendees who quickly realized that not all experiences are the best. The skits represented some of Terry's and Kathy's experiences visiting wineries on three different continents. Terry went on to talk about what can be done to make the before visit, during the visit and after the visit experiences ones that will cultivate brand ambassadors.
You can view the presentation in pdf format. Note: It may take awhile to download.
Session 1.4

Dusan Jelic presented "Branding Balkan Wines in the Context of the South Eastern European Wine Tourism." He mentioned that there is a problem with the terms as many people view the word Balkans negatively. However there are also negative connotations with the term Eastern. Terminology aside, the large region is home to over 2000 wineries and is a great wine tourist destination. He is working with local tourists boards to help develop wine tourism in their area. There is a need to look at the whole tourist picture though, A winery cannot expect tourists to visit their winery if there is no nearby lodging available.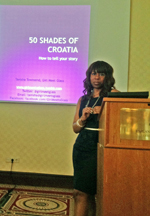 Session 1.4
"50 Shades of Croatia"

Tanisha Townsend from Girl Meet Glass Presented "50 Shades of Croatia." The first part of Tanisha's session was about what made Fifty Shades of Grey, a popular book and later connecting it to creating a story for the wines of Croatia.
Among some of Tanisha's suggestions, she suggested looking for popularity intrigue and romance. Look for the popularity, visibility, intrigue, romance and saga. Stories should include great characters, an event, ambition, conflict and hope.
Characters for a Croatian wine story can include grapes, family, vineyard, vines, who are they, what is the story behind them. The wine story needs to make the listener care about them.
Events can include past, present and future. Ambition includes the goal, desire, determination, motivation, purpose. Conflict includes risk vs safe, roadblocks, and perhaps a power struggle.
The story should use emotional connection, memorable moments and be relatable. Tanisha suggested the character for the story could be local varietals, variety of growing regions, Bioydynamic movement, and family members.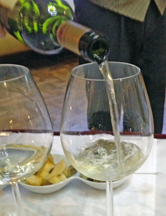 Session 1.5
Wines from Croatia Grand Tasting
The Grand Tasting was led by Caroline Gilby MW. Conference attendees tasted several Croatian wines along with a wine from Italy and a wine from Slovenia. Both the wines from Italy and Slovenia were produced by wineries close to the Adriatic Sea. There were several wines tasted made with popular grapes in Croatia including international grapes and indigenous varieties. Some of the varietals represented were Malvazija, Friulano, Graševina, Teran and Plavac Mali. The international wines tasted included grapes made from Riesling, Sauvignon Blanc, Cabernet Franc and Syrah.
Written March 2013