Maryland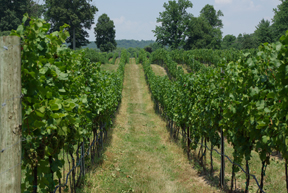 With its location on the East Coast of the United States, Maryland has a variety of landscapes to enjoy. If you are looking for a metropolitan area or rural area, sand and sun or mountainous areas to explore, Maryland includes it all. Looking for urban or rural wineries, you will find them in Maryland.
With over 50 wineries and over 600 acres of grapes statewide, Maryland is in a period of growth. New vineyards are planted every year with several wineries opening.
Maryland consists of seven grape growing areas. The Eastern Shore, Central Maryland region, The D.C. Metro Wine Region, Southern Maryland region, North Eastern region, North Central regions and Western Mountain region.
There is a Maryland State Appellation as well as the Catoctin AVA, the Cumberland Valley AVA and the Linganore AVA. Most state wineries use the state appellation on labels. Although there are many grape varieties grown in the state, the most prevalent vinifera varieties are: Cabernet Sauvignon, Chardonnay, Merlot and Cabernet Frank. Other grapes grown in the state include the hybrids Chambourcin and Vidal Blanc. Wine enthusiasts can search and find over 80 wine grape varieties grown in the state.
The number of wineries in Maryland is continuing to increase and many have interesting stories to tell. If you have the opportunity, be sure to visit Maryland wineries.
Maryland Quick Facts
61 licensed wineries
Boordy Vineyards is the oldest winery in the state opening in 1945.
In 2011, Maryland wineries sold 1,744,275 bottles of wine.
There are over 600 acres of wine grapes grown in Maryland

For more inforrmation about Maryland Wineries read the following articles:
-Misconceptions 1 examines some of the misconceptions about Maryland wine.
-Misconceptions 2 looks at some of the misconceptions about Maryland wineries.
-MD Grape Varieties mentions the most widely planted grapes in Maryland and the hard to find grape varieties.
-Where are MD wineries? Wine regions and wine trails in the state are presented.
---
Visit these wineries that partners with Wine Trail Traveler.