Deep Creek Cellars
by
Kathy Sullivan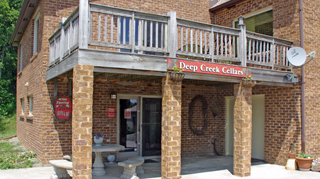 Summary: Deep Creek Cellars located in the Deep Creek Lake tourist area of Maryland is open with varying hours depending on the season.The owners suggest consulting their website for hours before visiting.This boutique winery provides quality wine using Maryland grapes including some from onsite vineyards.
Deep Creek Cellars is located in the far northwest area of Maryland. The winery is only minutes from Deep Creek Lake, Wisp Resort and Firefly Farms Creamery & Market. Paul Roberts and his wife Nadine Grabania started the winery 16 years ago.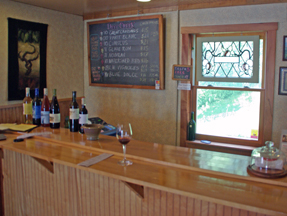 Deep Creek Cellars is a boutique winery with a focus on creating quality wines. The winery has a dedicated room for tasting wines with vineyards nearby. The light wood finished floor, light wood ceiling, chairs and stained glass ceiling light add to the ambiance of the room. Walls are decorated with local art that is also available for sale. The simplicity of the tasting room offers an attractive alternative to glitzy tasting rooms. The winery offers a selection of food items that includes vinegar with dill produced by Paul and Nadine. They also produce vanilla extract – Vanilla Veritas. The vanilla extract is made with the winery's distilled brandy and a fresh vanilla bean. Other items available in the tasting room are Backyard Gardens Mustards, Hot Pepper Jelly and Pear Butter, made without added sugar from no-spray Asian pears grown on the property.
Paul noted that visitors who come in for a tasting the first time are frequently surprised by the quality of the wines. Paul said, "People show up not expecting to find anything they like. Then they leave with cases."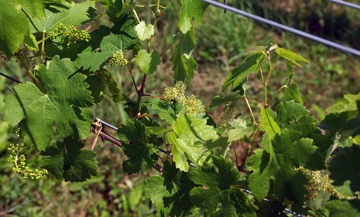 Vineyards
Deep Creek Cellars has two acres of grapes onsite. Varieties include Cabernet Franc, Vignoles, Vidal, and Frontenac. Grapes are also sourced from an Allegheny County vineyard. Bear Hill Vineyards is among the largest Pinot Noir vineyards in the state. Grapes are also sourced from Carroll County, Maryland. Paul said he "loves grapes – it's a great way to learn about the world."
Background
Paul noted that right out of college he was interested in wine. He visited wineries and worked harvests. In 1986 he apprenticed at Chateau Montelena. He likes living in a rural area and sees wine grapes as a crop that you can make a living with by making wine with those grapes. In 1997 he and his wife started Deep Creek Cellars.
Winery
Current production is at 1,000 cases and has remained at this level since the winery opened. Fifty percent of the wine is sold in the tasting room and the other 50 percent is distributed. Wines are bottled in recycled glass bottles.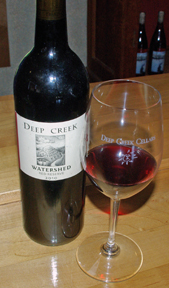 Wines
Cumulus 2010 with a beautiful label of cumulus clouds was a blend of white wines. Varietals in the blend included Vignoles, Vidal, Chardonnay, and Traminette. The yellow wine offered a floral aroma with some citrus. The taste was smooth and floral with a slight yellow stone fruit touch.
Nouveau 2011 was made with Frontenac and a splash of Cabernet Franc. This red wine had an aroma of red berry fruit with a taste of raspberries plus a hint of strawberries. The finish was crisp and fruity. This is a 3P (porch, patio, pool) wine that white wine drinkers will enjoy. Watershed 2010 was a ruby colored wine blend of Cabernet Franc, Petit Verdot and Norton. The aroma had dark fruits notes while the taste had dark fruit notes with a hint of plum. The crisp finish had tannins and was fruity.
Pinot Noir Bear Hill Vineyards 2010 is the first Pinot Noir wine from that vineyard. The color was dark ruby. The aroma was earthy with hints of mushrooms. The taste reminded one of cherry and plum. The finish with tannins was crisp and fruity with a very long aftertaste. This wine was aged in a hybrid barrel made from American and French oak. For those who like Pinot Noir, try this Pinot to discover what this grape can produce when grown in higher elevations and the right soil combination.
Paul noted, "We are one of the very few Eastern producers to practice "natural wine" viticulture, which is grape-growing with an emphasis on mostly organic, sustainable, minimal inputs, including some features of biodynamic production. We sell wines through a natural wine distributor in New York City, and are believed to be the only Maryland producer to ever sell wine in the nation's largest retail market."
While planning a vacation to Deep Creek Lake or Wisp Resort be sure to include time to visit Deep Creek Cellars and taste the wines.
Deep Creek Cellars

177 Frazee Ridge Road

Friendsville, Maryland 21531
GPS: N39º 42.698' W79º 26.537'
---
Visit these wineries that partners with Wine Trail Traveler.