St. Michaels Winery
by
K. L. Sullivan
Summary: With the friendly staff, the tasting room at St. Michaels Winery is a definite stop to make when in St. Michaels, Maryland. Just inside the tasting room, you will find several round wood tabletops sitting on old oak barrels. Stools are placed around the tables and at the tasting counter. Visitors tend to come and stay awhile so plan to stay and sit for a very pleasant tasting experience.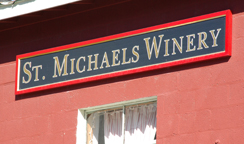 St. Michaels Winery started in May 2005, inside an old flour mill on Morengo Street in St. Michaels. It is a unique winery to visit and the tasting room is charming with a small restaurant feel. Visitors are given a restaurant type menu with the possible wine flights to taste. Descriptions of the wines are mentioned on the menu. An individual wine can be tasted or a flight can be ordered. Various prices are charged for the flights and the flights include the wine glass.
Inside the tasting room, wine accessories are available including wine corkscrews. Other items will enhance your wine experience at home including mulling spices, special olive oils from France including Extra Virgin Olive Oil with White Truffle. If you are looking for a gift, consider asking about the availability of gift baskets. Personalized gift baskets can be put together when you want them.
As we tasted wines, we discovered Long Splice and Cabernet Sauvignon were two of the public's favorites and both are produced with grapes from their vineyard in Wye Mills, Maryland. This vineyard includes one acre of vines including Chardonnay, Seyval and Cabernet Sauvignon. The over twenty-five year old vines from the Wye Mills vineyard are the oldest vinefera grapevines on Maryland's Eastern Shore.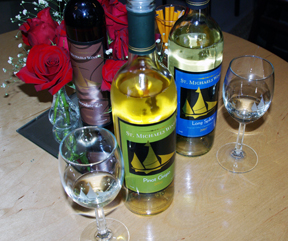 Long Splice was produced with 73% Seyval and 27% Chardonnay. Other favorites included the Gollywobbler Red and Gollywobbler White. Gollywobbler Red was a blend of Concord and Cabernet Sauvignon. This wine was light with a fruity taste. It may remind you of a light red grape juice. This wine was dry on the finish. Gollywobbler White had a Niagara nose and was sweet. Consider using this wine for a picnic.
The tasting room manager, Jesse Applegarth, was busy attending to a steady stream of visitors. She gracefully moved from table to table and behind the tasting bar to talk to the customers and pour the tastings. She told of the origin of the gollywobbler name. A gollywobbler is the middle sail on a schooner. The nautical theme of this winery is perfect for St. Michaels, Maryland.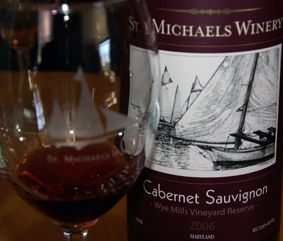 Other wines tasted on the day of our visit included Pinot Grigio 2006. It had a fruity nose with citrus fruit on the taste. It was crisp with dry grapefruit on the aftertaste. Chardonnay 2006 was produced in a stainless steel tank. It had an apple and pear nose and taste. It was cleansing with a citrus on the finish. Chenin Blanc 2006 had a floral nose and a fruit taste of apple and pineapple. It was medium-bodied and the finish was crisp. Cabernet Sauvignon Reserve Md was produced from the grapes at Wye Mills vineyards. The wine had a light cherry nose, light body and a cherry taste, with a crisp finish and cherry aftertaste.
If you enjoy pairing wines, consider asking about sampling cheese from the Chapel Creamery Cheese. Selections included Cheddar, Crab Spice Cedar, Gork and Chie Cheddar and Herbal Jack.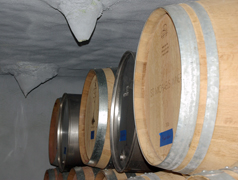 After tasting several wines, we walked down a few steps from the tasting room to the lower level where the winery is located. Lindsay Bradley gave us a tour of the winery. In addition to the tanks, a large cave-like storeroom has been created to store oak and stainless steel barrels. The room was covered with a cement-like substance and even had a few stalactites hanging from the ceiling. It reminded us of the wine caves we walked through in California that were made by the use of a Welsh mining machine.
A large area in the tank room has been set aside for events. The room was currently setup for a Valentine's Day evening event. A stage is setup with musical equipment for a local jazz artist who provides entertainment on a regular basis. Other local music artists also provide music entertainment. This event space is multifunctional. It is used for a variety of events and for wine tastings for large groups. St. Michaels Winery invites those interested to inquire about the use of this area for events. The area is the perfect size for private wine tastings or catered rehearsal dinners.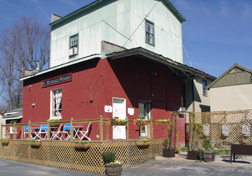 When you visit St. Michaels, Maryland, be sure to stop by the winery and enjoy a chat and a tasting. The winery is opened daily and has sixteen wines to taste. St Michaels Winery participates in all Maryland major wine festivals. Although the address for the winery is on Talbot street, if you are approaching St. Michaels from Easton, Maryland, make a right turn onto Morengo Street from Talbot Street. The winery entrance is a few yards away.

St. Michaels Winery
605 South Talbot St. #6
St. Michaels, Maryland 21663

GPS N 39° 24.899' W 077° 08.867'
---
Visit these wineries that partners with Wine Trail Traveler.