Basignani Winery
by
K. L. Sullivan
"A Labor of Love"
Arriving at Basignani Winery, we were greeted by friendly border collies as we waited for one of the winery owners.
Opening in November of 1986, Basignani Winery has a casual and friendly atmosphere. Basignani began as a hobby and continued to grow until they are now producing about six thousand gallons of wine. They expect their first harvest of Nebbiolo during 2007.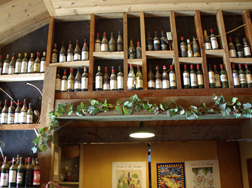 Wine bottles line the shelves of what was once an old garage. The tasting room is small compared to some we have visited but this is part of what makes Basignani unique. Over the tasting counter, we saw "old" winery equipment on display including a wooden crusher and a wooden press.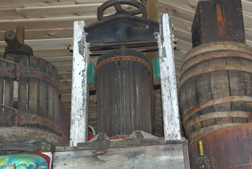 The tasting room has some wine accessories. We spotted a canvas wine bottle bag with two pockets on the side for only $8. Buy a bottle of wine and what a terrific gift it would make for someone special. Wine music CDs are also available.
Basignani Winery produces wine from ten acres of grapes at Basignani and another ten acres in other parts of Maryland. For sweet wines some grapes are obtained from California and New York. The winery has tours available for anyone interested in the production of wine.
Events are available throughout the year including a Father's Day picnic, movie nights, and a pizza event in April. Check their website and perhaps give them a call for further information.
Riesling is their best seller at Basignani Winery. Their wines can be found in about 200 stores and 20 restaurants. Basignani Winery participates in all of Maryland's large wine festivals. On the day of our visit we tasted the Seyval, Elena, Chardonnay, Cabernet Sauvignon and Riesling. These were a few of the wines available for tasting.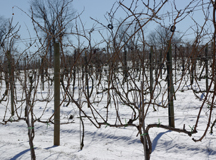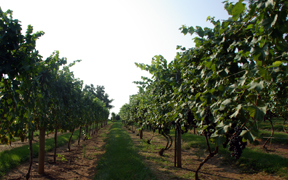 The vineyard was snow covered during our January visit. It was interesting to see the vine architecture against the snow covered grown and blue sky. We returned to Basignani in September to help with the harvest. The naked vines were covered with leaves and grapes. Seventeen volunteers helped with the first harvest of the year. Although we were slower than experienced grape harvesters, we were able to get the job done inspite the lower 90° temperatures. Lynne Basignani treated the group to a lunch served with Basignani wines. This was a wonderful opportunity to enjoy working with others who are interested in wine. It also gave volunteers the chance to work with the grapes in the vineyard where many believe wine is made.
Basignani Winery
Sparks, Maryland
---
Visit these wineries that partners with Wine Trail Traveler.