Elk Run Vineyards
by
K. L. Sullivan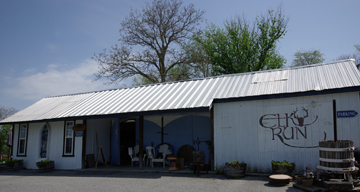 Summary: Elk Run Vineyards is a winery that strives for quality wines. The wines are produced with as little intervention as possible to make the best possible wines. Wine lovers will discover a large number of dry wines as well as slightly sweet and sweet wines. Elk Run Vineyards is a member of the Frederick Wine Trail.
Elk Run Vineyards is located in Frederick County, Maryland outside of Baltimore. The winery is easy to reach, only a few miles off Interstate 70. After leaving I-70, travelers will be in the delightful Maryland countryside.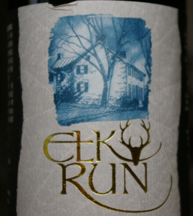 The winery owners' brick home, located across the driveway, was built in 1756. Drawings of the house, created by artists for Elk Run Vineyards, are used on wine bottle labels.
We entered the Elk Run tasting room on the side of the parking lot. Small tables on the inside and picnic tables on the outside make a delightful spot to share a bottle of wine with friends.
Fred and Carol Wilson started planting Elk Run vineyards in 1980. Fred enjoyed wine and this led to the creation of Elk Run Vineyards. He learned his winemaking skills while working with Dr. Konstantin Frank, renowned for his work with cold climate grapes in the Finger Lakes region of New York.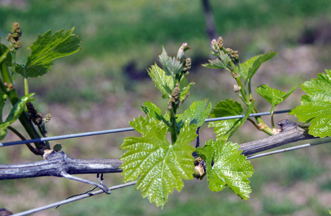 The winery produced its first vintage in 1983 and currently produces 5,000 cases. Vineyards are located on both sides of Liberty Road. The vines planted near the tasting room and winery are in the Liberty Tavern Vineyard while across the street the vineyard is known as Cold Friday. Grape varieties include Cabernet Sauvignon, Merlot, Cabernet Franc, Chardonnay, Pinot Grigio, Syrah, Pinot Noir, Petit Verdot and Riesling. This winery is focused on hand crafting both in the vineyards and in the winery. Hand pruning and hand harvesting are essential here.
The Wilsons and Neill Bassford, assistant winemaker and vineyard manager, strive for quality wines by using crop limitation, leaf pull for red varieties, cane pruning, using vertical shoot trellis and using French oak for Chardonnay. Neil commented that there is a strong relationship between the number of bunches per plant and the quality of wine produced. They have a green harvest every July.
Elk Run Vineyards have a large portfolio including dry, slightly sweet and sweet wines. The list is primarily dry but sweet wine lovers will discover Sweet Katherine, Lord Baltimore Maryland Port and Vin de Jus Glace.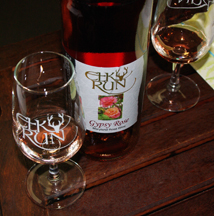 Rosé Wine
Gypsy Rosé 2009 was a blend of Cabernet Sauvignon and Pinot Noir. There were strawberry notes on the aroma and taste while the finish was crisp.
White Wine
Riesling 2008 was from Cold Friday vineyard. The aroma offered floral notes. The taste was of fruit salad with nuances of peach, apple, and pear. The finish was fruity with hints of mineral.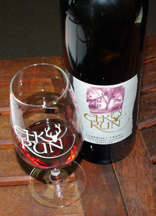 Red Wine
Liberty Tavern 2007 was produced in French oak. The result was a wine with an aroma of caramel and vanilla nuances. The smooth taste offered notes of caramel and apple. There were also caramel and apple notes on the finish. Cabernet Franc 2008 was produced from grapes harvested in the Cold Friday Vineyard. The wine was a dark sienna color. The aroma was of dark fruit while the taste had notes of dark fruit especially plum. The wine finished with tannins and caramel and dark fruit nuances with a spicy overtone. Liberty Tavern Cabernet Sauvignon 2007 was a light sienna color. The aroma was of blackberries while the taste had blackberry notes with a hint of caramel. There were tannins on the finish.
Dessert Wine
Port 2005 was produced with Cold Friday Vineyard Cabernet Sauvignon. The Port had 20 percent alcohol with 8 percent residual sugar. It was aged in old French oak for 36 months. The color was a dark purple/black. The aroma was of raisins and the taste of dark fruit. The body was lighter than some other Ports. The finish was crisp.
Enjoy an afternoon drive into Maryland's beautiful countryside of farms and rolling hills to visit Elk Run Vineyards.
Elk Run Vineyards
15113 Liberty Road
Mt Airy, Maryland 21771
GPS: N39º 27.885' W77º 08.142'
Related article on Examiner.com Baltimore Edition
Day Trip to Elk Run Vineyards article

---
Visit these wineries that partners with Wine Trail Traveler.