Virginia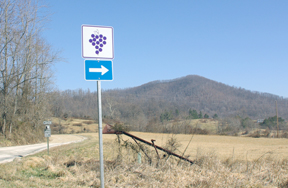 Whether you are visiting our nation's capitol or hiking the Appalachian Trail through Virginia, you are not far from wineries with style. Virginia's wineries are divided into seven regions. More wineries are coming on board each year. A number of wine trails exist in Virginia but not all wineries belong to the wine trails. Be sure not to miss the gem wineries that do not belong to a wine trail.
Visit large wineries and small boutique wineries. You are almost sure to find wineries you will enjoy visiting time after time. Explore the world of wines that Virginia has to offer. Grapes that thrive in Virginia include Viognier, Chardonnay, Sauvignon Blanc, Petit Manseng, Riesling, Vidal Blanc, Seyval Blanc, Cabernet Franc, Merlot, Cabernet Sauvignon, Norton, Petit Verdot and Chambourcin. Some of the Virginia wineries also produce wine made from blackberries, raspberries, apples, peaches, pears, blueberries and strawberries. A grape variety to keep watch on is Petit Manseng. This versatile white grape grows well in the state and a winemaker can produce wines from very dry to dessert.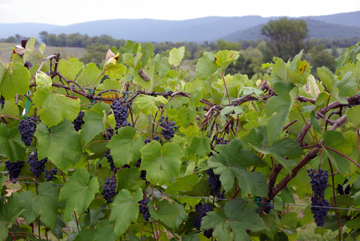 Virginia Quick Stats for 2017
| | |
| --- | --- |
| Acreage of grapes | 3000 acres |
| Number of Wineries | over 300 |
| Production gallons (TTB 2016) | 1,962,099 |
| Number of AVAs | 7 |
Virginia AVA's
Monticello (AVA)
Rocky Knob (AVA)
North Fork of Roanoke (AVA)
Shenandoah Valley (VA) (AVA)
Northern Neck George Washington Birthplace (AVA)
Virginia's Eastern Shore (AVA)
Orange County (County Appellation)
---
Begin planning you visit to Virginia wineries with these trip itineraries. The trip itineraries are a tool to help you plan your visit. The itineraries are two-days in length and can be combined for additional days. Whether you are planning a weekend getaway or a week long winery adventury, Virginia has the wine country for you to enjoy.
Itineraries
-Bedford County
-Charlottesville North
-Charlottesville South
-Charlottesville West
-Interstate 66 East
-Interstate 66 Central
-Interstate 66 West
-Purcellville
---
Visit these Virginia wineries and wine tour groups that partner with Wine Trail Traveler.