International Wine Tourism Conference
In March 2013, the 5th International Wine Tourism Conference will be held in Zagreb, Croatia. Winery owners, winemakers, wine industry, travel industry, travel professionals and wine and travel writers from around the world will meet and discuss, reflect and develop ideas about wine tourism. During the two-day conference there are over 30 talks, presentations, panel discussions and workshops. Participants will also have opportunities to taste wines from around the world.
2013 Conference Highlights
Thursday, March 14, 2013, pre-conference events
Friday, March 15, 2012, Conference and Exhibition
Saturday, March 16, 2012, Conference and Exhibition

Wine Trail Traveler's Coverage
Terry and Kathy will cover the conference as well as a post conference FAM trip to closeby Friuli, Italy. On the sidebar there are links to blog entries and articles. The blog entries have a tendency to be written in the first person and offer the author's opinion and point of view. In contrast, the articles are more likely written in the third person and describe an event or situation. Blog entries and articles will be posted prior to the conference, as well as during and after the conference.
Prior to the conference, Terry and Kathy will attend Vina Croatia 2nd Annual Portfolio Tasting in New York City. Thirty Croatian producers will have their wines to sample. The Sullivans will visit several Croatian wineries in the Istria wine region and then head to Zagreb for the conference.
Our Presentation
Session 1.3; 15:00 - 15:40
Istanbul Suite
Experiences that Cultivate Brand Ambassadors
Speaker: Terry & Kathleen Sullivan (Wine Trail Traveler, USA)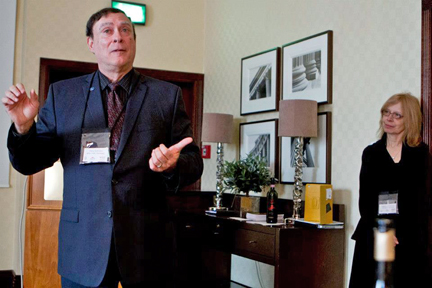 Why settle for customers when you can create ambassadors for your winery or wine tour? In addition to buying wine and taking wine tours, ambassadors provide free marketing for your business. This presentation provides a spark to create experiences that will produce ambassadors. Wineries and tour operators should focus on experiences including pre-visit, during the visit or tour and after the visit or tour. The pre-visit experience examines the company website. Why was the site created? Since greater numbers of travelers are using the Internet for information, a website needs to meet their needs by quickly providing information for which the traveler is searching. What does the tourist see upon approaching the winery or tour vehicle? What makes your winery or tour feel welcoming? What makes your winery or tour operation special?
During the visit or tour, ambassadors are molded through dialogue rather than monolog. The presentation will use attendee participation to model the differences between a poor experience, the traditional monologue experience and a dialogue experience. Ideas to cultivate ambassadors gleaned from a variety of wineries and tour operations around the world will be provided. Ideas presented go far beyond the typical wine and cheese pairings and winemaker dinners. This presentation includes unusual ways to pair wines, how to give your tasting room ambiance inside and out, and types of classes to offer at winery tasting rooms. Tour operators can provide more than transportation. The after the visit experience only takes seconds and helps mold ambassadors.