L'Enoteca Regionale dell'Umbria (Umbria Enoteca Regionale)
by
Kathy & Terry Sullivan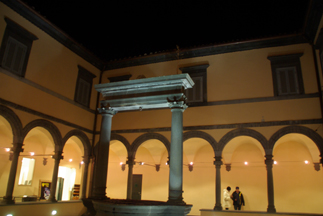 It was towards evening when our familiarization group reached the L'Enoteca Regionale dell'Umbria. The Regional Umbria Enoteca is located in the Palazzo del Gusto in the cellar that once was a convent. We passed through a courtyard and surrounding building to reach the cellar below. Today the large underground area has several rooms for tasting Umbrian wines. The wine cellar was part of the underground tunnels built by the Etruscans by digging into the tufa rock.
In the Enoteca, there are wood display cases for wine bottles built to hold two bottles of wine. Along the center tunnel that acts as a hallway, displays with backlit images and vessels of different shapes and sizes resting on under lit shelves tell a story of wine. Off the hallway, several wine rooms are available for group tastings.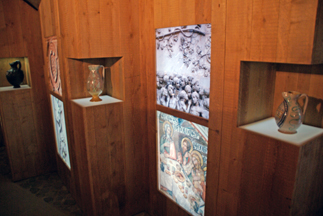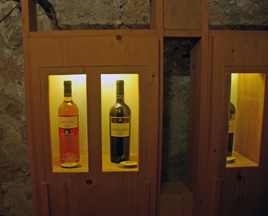 Wineries from the Province of Terni and Province of Perugia participate with the Enoteca Regionale. The majority of wines available have IGT, DOC or DOCG designations.
Traversing through the ancient tunnels we went to the back of the long hallway to a cellar where small tables had been prepared for us with three wine glasses. Italian bread was available for our wine tasting. Our host talked about Umbrian wines and then two attendants poured wines as we tasted three Umbrian wines.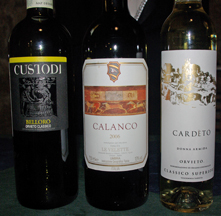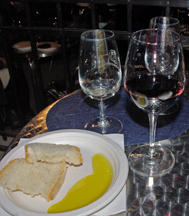 Wines
Custodi Belloro was a straw color created with a blend of Grechetto, Procanico, Trebbiano Toscan, Drupeggio and Verdello. Citrus notes were on the aroma and taste while the finish had lemon grass and mineral nuances on a crisp finish. Calanco 2006 by LeVelette was a blend of Sangiovese and Cabernet Sauvignon. The wine offered cherry and black fruit nuances while the taste had oak notes. Semi-bold tannins and almonds were noted on the finish. Cardeto 2007 Donna Armida was a blend with Trebbiano, Verdello and Grechetto. The color was yellow with floral notes on the aroma. The taste was sweet with honey nuances. The finish was crispy.
Consider a visit to the Umbria Enoteca Regionale for a wine tasting. Several types of wine tastings are available from which to choose.
The Regional Wine Centre has a lot of potential for the wine industry in Umbria. While not all areas have an old historic facility to use for a regional wine center, there is most likely a building nearby that needs renovation and would make an ideal regional wine center.
Il Palazzo del Gusto - Enoteca Regionale dell'Umbria
Via Serancia I, 16 - 05018 Orvieto TR
February 8, 2012
---
Visit these tour operators that partner with Wine Trail Traveler.
Spain and Portugal

SmoothRed
London, England, United Kingdom