I Comelli
by
Kathy Sullivan

Summary: I Comelli is a winery with a focus on agritourism. In addition to vineyards I Comelli has honey, cows, chickens and a large kitchen garden. Guests can enjoy the trails for walking, mountain biking and horseback riding.
Visitors to I Comelli, an agriturismo and winery, will discover a cozy restaurant, quality wines and a bed and breakfast. Wine enthusiasts will discover the grape varietal Ramandolo and several others.
The I Comelli vineyards are located in the DOC Colli Orientali del Friuli, a region close to Austria and Slovenia. For hundreds of years many armies have passed over the land. The Comelli family stayed in Italy to cultivate the soil. Today I Comelli with 60 hectares of land has 15 hectares of vineyards. Grapes include Verduzzo Friulano, a white grape with lots of tannins. It is often used as a sweet wine. DNA analysis indicated the grapes came from the Balkans.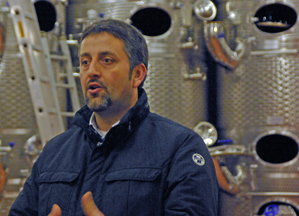 The Family
Alexander and Livia Comelli are the owners of I Comelli. Their sons Paolo (pictured), Francesco and Enrico, are involved with the winemaking and viticulture. They focus on Ramandolo, Picolit, Cjavalgjan and Friulano.
Grapes in the vineyards include Ramandolo, Picolit, Refosco, Cabernet, Merlot, Pinot Grigio, Friulano and Moscato Rosa. The vineyards are protected by Mount Bernadia, allowing a relatively late harvest typically ending in late October. Grapes are hand harvested at the right point of maturation. In the winery the wines are aged in small oak barrels.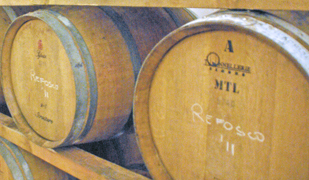 Winery
The cellar is new and controls humidity and temperature. The floor is red terra cotta. The cellar has a variety of stainless steel tank sizes. In addition to producing wines, I Comelli also produces Grappa di Ramandolo passito. Paolo met our group and discussed the winery and production techniques.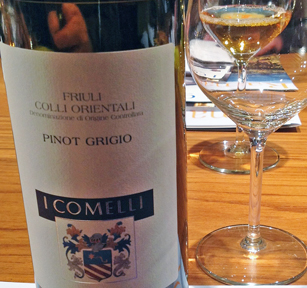 Wines
Pinot Grigio 2012 was crisp with citrus and fresh nuances. Romandolo 2011, made from Verduzzo grapes, was like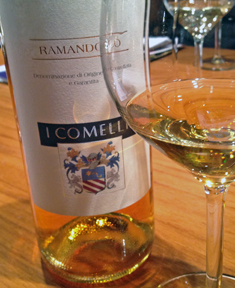 gold in a glass. The aroma had floral and mineral notes and the wine was sweet with tannins. It has 100 gr/l of residual sugar. This wine has a unique use; it can be used to rub onto the body. Spumante was a blend of Berzamino and Merlot that was a rose/orange color. The wine was crisp and refreshing and a great start for a first course. Friulano 2011 with a light straw color was crisp with citrus notes.
Refosco 2010 was a dark ruby/purple color. The wine was crisp with dark fruit nuances. It paired nicely with the eggplant. Romandolo 2007 was a dark gold and sweet. The wine offered dried fruit notes and tannins. The residual sugar was 140g/l.
Agritourism
I Comelli facility has a wonderful old style Friulian feel. We had dinner and tasted I Comelli wines during the dinner. A large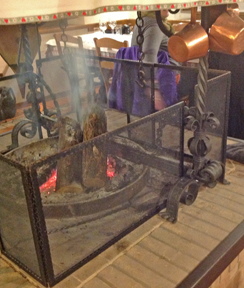 fireplace with an assortment of copper pans was in the center of our dining area. Tables are placed around the fireplace so that everyone can feel the warmth. Italian curios add to the atmosphere of a traditional Friulian kitchen and dining area.
For nature lovers, I Comelli seems the perfect spot to stay for several days. The lodging area has five bedrooms and includes WiFi for those who need to stay connected. A wide range of trails is available to guests. Guests can walk through vineyards, along trails that were created by trucks during World War I. Consider rock climbing, horseback riding and mountain biking. Explore the nearby area with medieval castle ruins and caves. Enjoy the natural ambiance of I Comelli with the farm animals including bison, donkeys, goats and more.
Bed and Breakfast
I Comelli has a several guest rooms available for travelers. Some of the members of our group of writers from IWINETC stayed the night while others including ourselves were designated to visit Paula's cousin's winery and bed and breakfast for the night.
Enjoy visiting I Comelli with its warm ambiance. Book a room and plan to stay for a few days amid the splendor of the outdoor world. Enjoy the I Comelli wines while visiting.
I Comelli
Largo A. Diaz, 8
33045 Nimis, Udine, Italy
Article written April 2013
---
Visit these tour operators that partner with Wine Trail Traveler.
Spain and Portugal

SmoothRed
London, England, United Kingdom