Terre Margaritelli
by
Terry Sullivan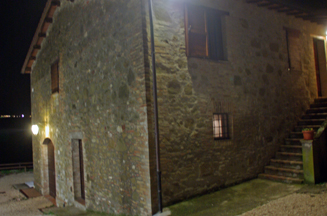 Summary: When traveling to wineries in Umbria, Italy add spice to your trip with a visit to Terre Margaritelli. In addition to wine tasting, a cooking class is available. For almost a century and a half, the Margaritelli family has been associated with this land, a land rich in history and saints.
Our group of writers visited Terre Margaritelli during the evening of the final day of the International Wine Tourism Conference. With the conference over and plenty of writing ahead, the group was ready for some Umbrian food, wine and conversation.

The winery is on 52 hectares located between Perugia and Assisi. The vineyards on the hill Miralduolo are in the wine region known as Torgiano that became one of the first DOCs in 1968.
Vineyards
Of the 52 hectares (128 acres) of vineyards planted in clay soil, about 30 are used in the regular wine production. The remainder 22 hectares are planted with experimental vines. White varieties include: mainly Trebbiano, Grechetto and Chardonnay. There are some experimental plantings of Pecorino, Fiano, Semillon, Viognier and Traminer. Red varietal grapes include Sangiovese, Canaiolo, Merlot and Cabernet Sauvignon.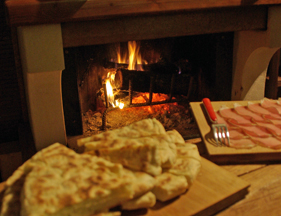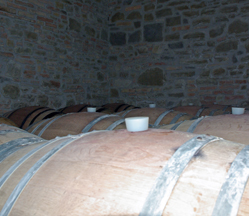 Winery and Tasting Room
The winery produces 50,000 bottles. There was a quick tour of the barrel aging room where barrels rest next to century old stone walls.
Upon entering the tasting room area, a roaring fire provided a backdrop for appetizers and Terre Margaritelli wines. There were several bottles of wine open for tasting and pairing with the appetizers. We met Federico Bibi and his wife Jennifer McIlvaine. Jennifer asked if any of our group was interested in making the Torta al Testo and Gnocchi that would be part of our dinner that evening. About half of the group split from the tasting room to follow Jennifer and help make the flat bread and gnocchi.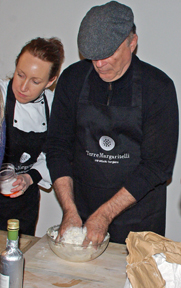 Cooking Demonstration
Jennifer, a professional chef, also teaches food classes offsite. She is an excellent instructor and readily had members of our group mixing ingredients by hand. Previously, I thought making gnocchi was difficult. With Jennifer's instruction, the process from start to finish was easy. Jennifer encouraged those interested to take part in all phases of making the Torta al Testo (recipe) and Gnocchi (recipe). In no time, several group members were rolling 3/4" sections of dough off forks. I helped to cook the gnocchi. Once it floats to the surface of simmering water, it was scooped out and placed in a hot skillet with olive oil and herbs. The Torto al Testo was place on a griddle and cooked on the stovetop. With those items cooked, dinner began with the food paired with Terre Margaritelli wines.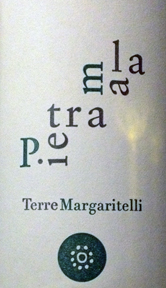 Wines
The 2010 Pietramala was a blend of Trebbiano and Grechetto grapes.The straw-colored wine offered a floral aroma with lemon grass and citrus taste. This wine was paired with appetizers. The Greco di Renabianca was produced with 100% Grechetto. The light yellow wine had a floral aroma. The taste was fruity with noticeable yellow stone fruit characteristics. The 2009 Miràntico was a blend of Sangiovese, Caniolo, Merlot and Cabernet Sauvignon. There were dark berry fruits on the aroma and taste along with mild tannins making this a very food friendly wine. Malot was a blend of Cabernet Sauvignon and Merlot. Dark fruits on the aroma and taste were accompanied by tannins. The wine was excellent paired with Porchetta (bacon skin, liver and fat).
The wine community often talks about "taste the place." At Terre Margaritelli this concept not only includes the wines, but also the local foods. In Umbria, food and wine is about family; wine travelers will quickly relish "taste the place."
Terre Margaritelli
Miralduolo di Torgiano (PG) - Italy
February 15, 2012
---
Visit these tour operators that partner with Wine Trail Traveler.
Spain and Portugal

SmoothRed
London, England, United Kingdom