Barberani Winery
by
Terry Sullivan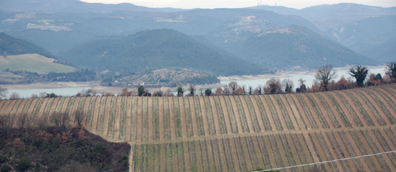 Summary: Barberani Winery is a family run business that was started in 1961. Their 50th anniversary was celebrated in 2011. At Barberani one gets a true sense of family, as many of the family were present to help during Bernardo Barberani's tour of the winery and wine tasting.
As we departed the bus, Luigi and Bernardo Barberani warmly welcomed us to the winery his grandfather started in 1961. We experienced a beautiful view of an area that has been a wine region since the time of the Etruscans. The Etruscans were known to make good wines. Their wines were sweet because the sugar levels helped preserve the wine. Even in the present, the area is one of the best areas in the world to produce late harvest sweet wines. Bernardo spoke of the naturalness of the land and wines, "One sip, and your body will like it."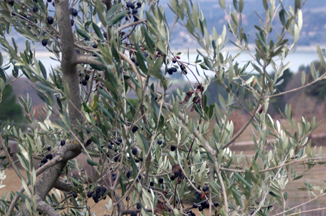 Vineyards and Olive Groves
Although resting now, vineyards grace the gently rolling landscape down to Lake Corbara that feeds to the Tiber River and eventually to Rome. For thousands of years, wine was transported to Rome and then further to Mesopotamia from this area of Umbria. The property, composed of 75 hectares has 50 acres of vineyards and olive groves. Although not officially certified, the family practices biodynamic principles in the vineyar. For example, fava beans are planted between rows of vines as a companion crop. All grapes are hand harvested. The very best grapes are hand harvested first to make the very best wines. Then the best grapes are harvested for the best wines.
There are five hectares of olive trees with about equal amounts of Leccino, Frantoio, and Moraiolo. Olives are carefully harvested and sent to a mill for pressing.
Wine Cellar
Artificial light is used in the winery and only their own water is used in the winery. Wine is produced with mostly new equipment. The winery produces an average of 350,000 bottles of wine.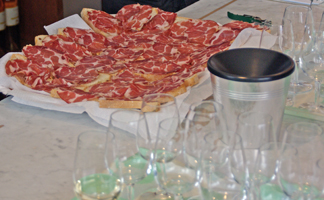 Tasting Room
The tasting room is modernistic with large plate glass windows providing views of the delightful rolling hills of Italy's countryside. Tall three-dimensional wood sculptures in the shapes of grapevines decorate the area. Tables and chairs encourage visitors to stay awhile.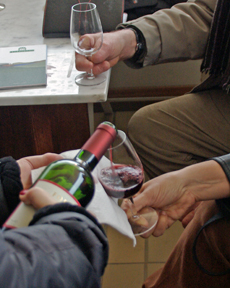 Wines
There are many different grape varieties grown in the Orvieto region. Traditional white varietal grapes include Grechetto, Trebbiano, Malvasia, Drupeggio and Verdello. The first wine tasted was a 2010 Castagnolo Orvieto Advanced Classic Dry DOC. It was produced from the five traditional Orvieto Classic grapes and a small amount of Chardonnay. The straw colored wine had floral and yellow stone fruit notes on the aroma and taste. The finish was crisp and fruity. The 2009 Foresco, Lake of Corbara Red DOC, was a blend of Sangiovese, Cabernet Sauvignon and Merlot. The blend was predominated by Sangiovese and had a ruby color with a cherry aroma and taste. Tannins on the finish ended with fruit. The 2006 Polvento Lago di Cabara DOC was a dark purple to black color with a ruby colored rim. Cherries predominated the aroma and taste while bold tannins finished with fruit.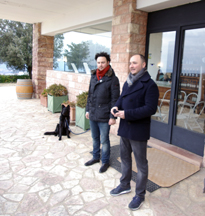 This land for millennia produced sweet wines. The Calcaia Orvieto Advanced Classic Sweet DOC "Noble Mildew" was a blend of the five traditional Orvieto Classic grapes along with a touch of Sauvignon Blanc. The wine was a dark golden color with a floral aroma. The taste offered honeysuckle and apricot notes. The sweet finish was crisp with a lingering floral aftertaste. Bernardo said, "This is a wine you can use to seduce women and girlfriends." We noticed that no one was dumping.
During our wine tasting, family members including Bernardo's girlfriend, poured the wines and offered food. When Bernardo spoke about the wines, one would notice the pride the family had as they watched him adoringly.
Wine travelers often hear about family operated wineries. Barberani Winery is a showcase of a loving family that help each other create wonderful wines and a memorable experience.
February 6, 2012
---
Visit these tour operators that partner with Wine Trail Traveler.
Spain and Portugal

SmoothRed
London, England, United Kingdom