Azienda Agricola Panizzi
by
KL Sullivan
Summary: Panizzi is located very close to historical San Gimignano. The road down to the winery is obscure and may be difficult to locate but is worth the trip. The tastings at this winery are for small groups. Allow plenty of time to enjoy your tastings.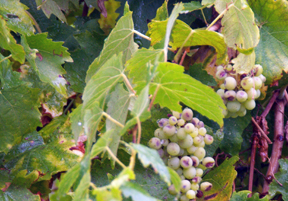 Located just a short distance below San Gimignano, Azienda Agricola Panizzi is a relatively new winery compared to others we have visited in Italy. Giovanni Panizzi has felt himself drawn to the Tuscany area since he was 12 years old. After pursuing other work, Giovanni eventually purchased a farm. In 1979, he began to plant vineyards at Panizzi. However, it was not until 1989 that he produced his first bottle of wine. Beginning with four hectares of vineyards, he now has 30 hectares of vineyards and an olive grove. He is busy increasing the size of his facility and has already added two new cellars. Today Panizzi produces about 17,000 cases of wine and 1000 bottles of extra virgin olive oil. Panizzi exports more than 65 percent of the wine it produces to the United States, Canada, Brazil and Europe.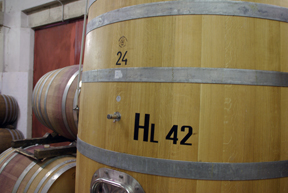 The winery buildings are relatively new in comparison to wineries occasionally located in medieval buildings. During our private tour of the winery, we saw a large balloon type press and a gravity flow system. The winery also has two Italian oak tanks and a number of stainless steel tanks. Oak barrels are used and now they only use French oak barrels.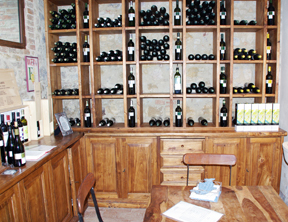 After a tour of the facility with Rada Linke, we went to a small tasting room. Rada was also our tasting facilitator. The winery has two tasting rooms. The small one has one small wood table for four. The larger tasting room is large enough for eight to ten people. This winery cannot accept large groups. We felt a lovely ambience from the room and Rada's enthusiasm as we tasted and discussed wine. The display of bottles in racks around the room added a nice atmosphere to taste wine. Very nice German Spiegelau wineglasses are used for wine tastings.
Rada is also the winery's contact for exporting wines throughout the world. She is enthusiastic and knowledgeable about wine and Panizzi winery.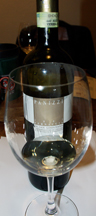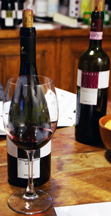 The main grape of the San Gimignano region is Vernaccia. At Panizzi, you will find three different wines made with 100 percent of the Vernaccia grape. Vernaccia is a white grape that has a fruity nose and taste. In this area, it is called Vernaccia di San Gimignano. Vernaccia wines made in this appellation may bear this name and have DOCG on the label if rules are followed.
We tried three white wines including Vernaccia and Chianti. Vernaccia Di San Gimignano 2006 DOCG was aged in stainless steel tanks. It had a fruit taste, was light- bodied and had a fruit and acid balance. Vernaccia Di San Gimignano Vigna Santa Margherita 2006 DOCG was produced from the Vernaccia grapes planted only in the Santa Margherita vineyard. It was aged in oak for five months, had oak on smell, and fruit and oak on the taste. It was smooth and would pair with food. The Vernaccia Di San Gimignano Riserva 2002 DOCG was fermented and aged in oak for 12 months and then spent another 12 months in the bottle. It had a minimum fruit nose, was smooth with a fruit taste and oak on the aftertaste. This Vernaccia was definitely food friendly.
Of the red wines, the Chianti Colli Senesi Vertunno 2004 DOCG was produced from 100 percent Sangiovese and aged in old oak barrels. It had dark red fruit on the nose and taste. The San Gimignano DOC Rosso Folgòre 2002 was a blend of 80% Sangiovese, 10% Merlot and 10% Cabernet Sauvignon. It was aged for 14 months in oak and spent a minimum of one year in the bottle. It has a red fruit taste with tannins. Folgòre was a poet from San Gimignano who wrote about wine in his poems. The San Gimignano DOC Cabernet Sauvignon Rubente 2004 was a 100% Cabernet Sauvignon that had a dark red color and a dark fruit taste with spices. It had a balance of fruit, acid and tannins.
We enjoyed our visit to Panizzi. When you visit the town of San Gimignano to see the 14 medieval towers still standing, you may very well want to contact Panizzi about stopping for a tasting.
GPS: N 43° 28.046 E 011° 01.349 Elevation 290'
---
Visit these tour operators that partner with Wine Trail Traveler.
Spain and Portugal

SmoothRed
London, England, United Kingdom