San Simone Winery
by
Kathy Sullivan

Summary: San Simone Winery in Porcia, Italy is a winery started in 1915 by the current generations great grandparents. Today the winery is in a contemporary Italian style blending in well with the region. Wines include traditional and indigenous varieties.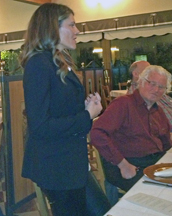 While on the winery visits with the International Wine Tourism Conference, media group, we had dinner at Trattoria Cavour in Friuli, Italy (sponsored by Wine and Food Routes Friuli Venezia Giulia) that included San Simone wine pairings. One of the trio of San Simone winery owners, Anna and her husband attended the dinner and presented the San Simone wines. A lively discussion of Friuli wines and Italian food took place throughout the dinner. This dinner was the final get-together for the IWINETC group.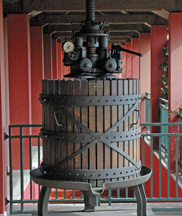 Terry and I made plans to linger in Italy for a few extra days and Wine and Food Routes Friuli Venezia Giulia helped us plan a trip to three additional wineries including San Simone. The next day we visited San Simone for a tour and chat with Anna, and her sister Chiara. Their brother, Antonio is the winemaker. This is a very family oriented winery. The family interest in winemaking began back in 1915 when their great grandparents, Gino and Olga Brisotto, began making wine and selling it in bulk. Eventually grandparents Antonio and Angela followed in their footsteps. Later the winery relocated to its present location under their parents, Gino and Liviana. Today the team of Anna, Chiara, and Antonio continue with producing wine.
Winery
The winery, terra cotta building, stretches out across the landscape. Vineyards surround it. The tower of San Simone can be seen in the distance. The winery uses modern winemaking equipment. Current production at San Simone is 900,000 bottles (75,000 cases.) A large bottling machine was in use at the time of our visit.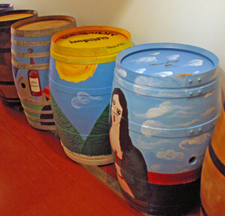 Outside an old basket press sits above the entrance to the barrel aging room. The hallway to the barrel room is lined with decorative painted wine barrels. The barrels were painted by teens with messages to drink responsibly. One wall of the barrel room has wine bottles on display.
Vineyards
Today San Simone vineyards consist of four separate vineyards and include 60 hectares (148 acres). San Simone also has control of additional hectares. Vineyards are located in two DOC zones: Grave DOC and Prosecco DOC. Rather than using herbicides in the vineyards the grass between the grapes is mowed.
Grape varieties include traditional (international) and indigenous varieties. The international grapes are Pinot Grigio, Chardonnay, Merlot, Cabernet Franc and Sauvignon Blanc. Indigenous grapes at San Simone include Friulano, Refosco dal Peduncolo Rosso and Glera.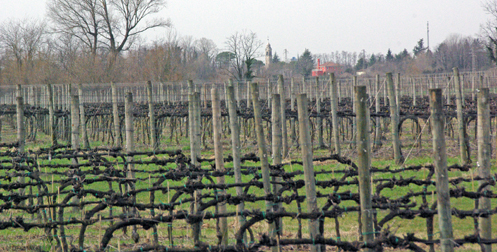 Cabernet Franc or Carmenère
Anna mentioned the confusion between Cabernet Franc and Carmenère. She stated that the majority of Cabernet Franc in the Friuli region is actually Carmenère; however, in Italy it must be labeled Cabernet Franc.
"Project Green"
San Simone winery supports protecting the environment. Known as "Project Green" San Simone supports the environment in several important ways.
Between the rows of grapes in the vineyard, grass is planted providing refuge for squirrels, rabbits and micro fauna. Energy is converted from the roof's solar panels. Water discharged from the winery is treated before being released to the public. In addition to reusing glass, the winery also recycles paper and plastic.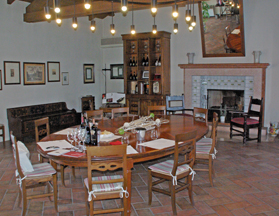 San Simone Wines
After touring the winery with Anna, we tasted additional San Simone wines in a room decorated as a dining room with a fireplace.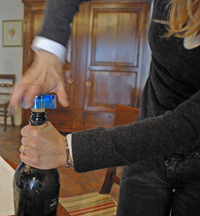 Chiara demonstrated the use of a sparkling wine cork remover that safely helps to remove the cork. Prosecco Doc Brut Millesimato 2011 "Perlae Naonis" was a Glera sparkling wine with nine grams sugar/l. The wine was crisp with citric and apple notes. The evening before our visit we tasted the Cuvée Blanc de Blancs Extra Brut Millesimato 2011 "Perlae Naonis." This sparkling wine was made from Chardonnay grapes with three grams sugar/l. It was extra dry and refreshing, a perfect wine before a meal.
Pinot Grigio 2011 was a straw color. The fresh citrus notes yielded to minerals on the aftertaste. Friulano 2011 offered floral and citrus notes with almonds and minerals on the aftertaste. Refosco dal Peduncolo Rosso 2009 was a dark ruby/purple color. The aroma was of black fruits while the taste was of black fruits and tobacco. The finish with tannins had fruit yielding to tobacco and licorice.
Tastings at San Simone
Visitors to the region will find the San Simone winery is open Monday through Friday. Special tastings with regional products are available with a reservation. (During August the winery is closed.)
San Simone Winery
Via Prata 30
33080 Porcia PN, Italy
GPS: N45° 54' 41" E12° 36' 45"
Article written April 2013
---
Visit these tour operators that partner with Wine Trail Traveler.
Spain and Portugal

SmoothRed
London, England, United Kingdom