Croatia
In 2013, Wine Trail Traveler traveled to Croatia for the International Wine Tourism Conference in Zagreb. Terry and Kathy visited and wrote about several Croatian wineries/vineyards. Wine Trail Traveler also attend the Vina Croatia 2nd Annual Portfolio Tasting in New York City.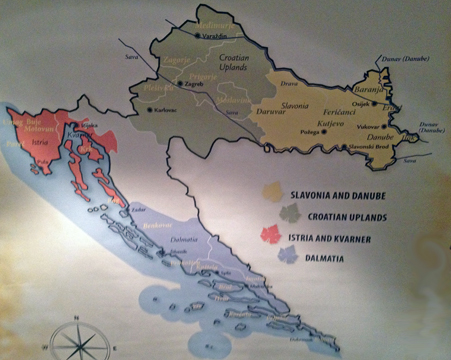 Croatia is an ancient land. Parts were settled by Greek colonists who brought with them viticultural and winemaking practices. A coin dating back 2,500 years depicts grapes on one side and an amphora on the other side. The coin was discovered on the island of Vis in the Adriatic Sea. It is believed that grape vines were first planted on this island and soon other locations within Croatia saw vineyards planted and wine produced.
There are several wine growing regions in Croatia. Much of the coastal area, with the influence of the Adriatic Sea have vineyards. Along this coast the two major wine regions include Istria and Kvarner to the north and Dalmatia to the south. Each region has its unique terroir. The varietal red wine grape Plavac Mali produces very unique and different wines depending on location of the vineyards.
There are also two major wine growing regions in the Continental Croatia. The Ancient Romans introduced grape growing in many of these areas. This area lies east of the coastal regions of Istria and Croatian Littoral. Moving towards the east are the Croatian Uplands and Slavonia and Danube.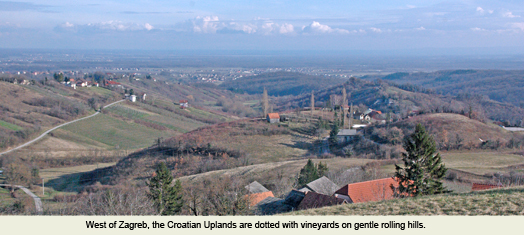 Croatia Viticulture and Winemaking Quick Facts
| | |
| --- | --- |
| Vineyard area | 33,000 hectares (82,000 acres) |
| Percentage of vineyard area in Coastal Region | 51% |
| Percentage of vineyard area in Continental Region | 41% |
| Number of cultivated varietal grapes | 200 |
| Number of indigenous varietal grapes | 60 |
| Wineries producing wines of controlled origin | 600 |
| Wine production of controlled origin | 61 million liters (16 million gallons) |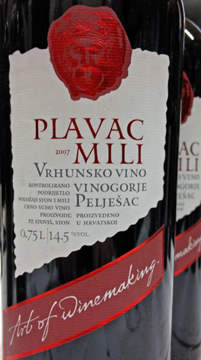 Common wine grapes grown in Croatia
Coastal Wine Regions Main Varietal Grapes

Continental Wine Regions Main Varietal Grapes

white

Debit
Gegić
Grk
Kujundžuša
Malvazija Istarska
Maraština
Muškat
Pošip
Vugava
Žlahtina

white

Chardonnay
Dišeća Ranina
Graševina (Welchriesling)
Kraljevina
Muškat žuti
Pinot Bijeli (Pinot Blanc)
Pinot Gris
Rajnski Rizling (Riesling)
Sauvignon Blanc
Silvanac zeleni
Škrlet
Traminac (Gewürtztraminer)

red

Babić
Cabernet Sauvignon
Grenache
Merlot
Plavic Mali
Syrah
Teran

red

Cabernet Sauvignon
Frankovka (Blaufrankische)
Merlot
Pinot Crni (Pinot Noir)
Portugizac