Vina Belje
by
Terry Sullivan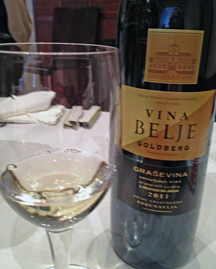 Belje traces its history back to 1697 when Prince Eugene of Savoy was given an estate located at the confluence of the Danube and Drava rivers. The present day wine cellars were dug into a hillside five centuries ago. Today Slovenian oak casks age the wines.
Vineyards
The Ancient Romans brought grapes to the Baranja region. At the present time, Belje has 600 hectares of vineyards (almost 1500 acres). Graševina (Welschriesling) is the major varietal grape planted. There are also plantings of Chardonnay, Cabernet Sauvignon and Merlot. In Eastern Croatia, the basin of the Danube experiences warm summers and rich loose soils. Occasionally the temperatures can become extreme and pose challenges for growers. The vineyards are located in the Baranya appellation. In Hungarian, "Baranya" means The Mother of Wine.
An eight kilometer road passes through the vineyards giving visitors a view of the landscape of vines. The road resembles a gentle roller coaster moving up and down following the contours of the land.
Winery
Vina Belje is a large winery with a production of three million liters of wine (enough to fill over 300,000 cases). The wine cellars are two levels of long corridors lined with Slovenian oak casks. Marijan Knežević is the head winemaker. He first became interested in making wine as a student in high school. He started his career at Vina Belje 11 years ago.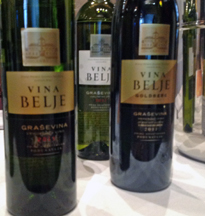 Wines
Three Vine Belje wines were tasted at Vina Croatia in New York City. All three wines were made from Graševina grapes from the 2011 vintage. The Graševina Kvalitetna is the entry level Graševina. It was a straw color with a slight floral and peach aroma and taste. The finish was crispy and fruity. A premium level was the Graševina Vrhunska made from selected grapes during the Graševina harvest. The wine was a light yellow color and also reminiscent of floral and yellow stone fruits. It too had a crisp fruity finish. The ultra premium level Graševina was the Graševina Goldberg Vrhunska also harvested with select grapes. It too was a light yellow with floral and yellow stone fruit characteristics. The crisp fruity finish had a hint of oak.

This article was based on an email interview with Ljiljana Vajda-Mlinaček, Marketing Director for Vina Belje and a tasting of the Vina Belje wines at the Vina Croatia 2nd Annual Portfolio Tasting in New York City in February 2013.
Article written February 2013
---
Visit these tour operators tha partner with Wine Trail Traveler.
SmoothRed
London, England, United Kingdom