Roxanich
by
Terry Sullivan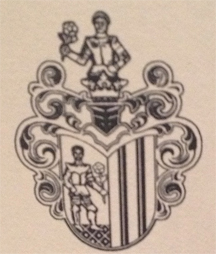 Summary: With vineyards located just a few miles from the Mediterranean Sea (6 km), Roxanich produces high quality wines from grapes that do well in the Istrian red clay soils.
Mladen Rozanic is the winemaker at Roxanich. His previous career was in mechanical engineering. During that time his wine journey took him to several wine regions. The most influential wine region was the Rhone Valley in France. Mladen decided to learn about vinification and began making wine in 1998. Mladen founded the winery and Roxanich's first commercial vintage, a 2005, was released at the end of 2008. The name Roxanich is an old spelling of the family name dating from the 13th/14th centuries. The family coat-of-arms is used on wine labels.
The motivation to start a winery was a desire to produce high quality wine from Croatia. Mladen wants to craft wines that reflect the terroir of his Istria location and his personal character. Mladen wrote, "Artisanship, culture of wine and Rudolf Steiner Anthroposophy are his personal imperative."
Vineyards
The vineyards are located less than four miles (six km) from the Mediterranean Sea. The 26 hectares (64 acres) of grapes are growing in Istrian red clay soil that is rich in iron ore. Below the layer of red clay soil there is monolithic calcaric stone. Roots grow deep into the stone that helps anchor the vineyards.
Several varietal grapes are grown in the vineyard. The indigenous grapes include the white Malvasia Istriana and the reds Borgonja and Teran. International grapes varieties include Chardonnay, Cabernet Sauvignon, Merlot, and Pinot Noir.
Winery
Mladen makes wines using indigenous yeasts in large open vats that range in size from 5,500 to 7,000 liters (1450 to 1850 gallons) in volume. Both whites and reds stay on the skins for extended maceration. Mladen mentioned that for some whites this can last as long as six months. Wines are aged in oak vats and barrels for at least three and a half years. Wine is bottled unfiltered. Mladen stated, "Our credo is: Honest, Simple and High Quality wine. We want minimal intervention on such a beautiful fruit of nature - grapewine. We believe in winemaking as art and we practice it with love and passion."  
The long maceration is unique for wineries in Istria. Roxanich's wines can age for many years. The wines express the terroir rather than oak influences.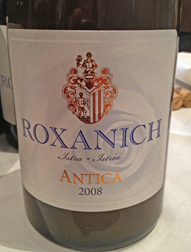 Wines
Three wines were tasted at Vina Croatia in New York City. The 2008 Antica was made from Malvasia Istriana and was a dark gold color with an orange hue. This deep color was achieved in part due to extended skin contact. The wine reminded me of daisies. The 2007 Teran Re was a blend of 80% Teran and 20% Refošk. The wine spent three years in neutral oak. The wine had a ruby color and was like a fruit salad made from dark berry fruits. It had a very crisp and fruity finish. The Milva 2008 was made with Chardonnay. The wine spent eight days on the skins and three years in barrel. The result was a gold color with an orange hue. The wine was floral with a crisp finish. It had a very long floral aftertaste.
We tasted several Roxanich wines at Vina Croatia 2nd Annual Grand Portfolio Tasting in New York City in February 2013.
Article written February 2013
---
Visit these tour operators tha partner with Wine Trail Traveler.
SmoothRed
London, England, United Kingdom