Northern Central Valley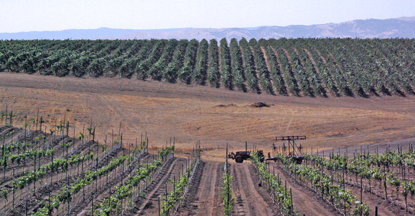 The area covered by the Northern Central Valley includes Yolo, Sacramento and San Joaquin counties. Sacramento and San Joaquin counties make up the Delta. Yolo County includes to AVAs visited: Dunnigan Hills and Clarksburg.
In the Lodi area, the first vineyards were planted by Charles Weber in 1850. The first winery, El Pinal Winery opened in 1858. About two thirds of the grapes planted in Lodi and its sub-appellations are black skinned. The predominant red grapes include Zinfandel, Cabernet Sauvignon, Merlot and Petite Sirah. Of the white grape varieties Chardonnay, Sauvignon Blanc and Pinot Gris are the most widely planted. There is around 100,000 acres of grapes planted in the Lodi region with over 70 wineries and 750 growers.
The Clarksburg AVA overlaps into Yolo and Solano Counties. The predominant red grapes include Petite Sirah, Pinot Noir, Tempranillo, Cabernet Sauvignon and Merlot. Predominant white grapes include Chardonnay, Chenin Blanc, Pinot Gris, Sauvignon Blanc and Viognier. The grapes are planted in over 10,000 acres of vineyards. Summer days are warm, but cool afternoon breezes from the San Francisco Bay roll into the Sacramento River Delta cooling the vineyards in the appellation.
The Dunnigan Hills AVA is in Yolo County west of Sacramento. Predominant red grapes planted in vineyards include Syrah, Merlot, Cabernet Sauvignon, Grenache, Petite Sirah and Tempranillo. The most widely planted white varietal grapes include Chardonnay, Sauvignon Blanc and Viognier.
North Central Valley AVAs
Clarksburg
Lodi
Sloughhouse
Alta Mesa
Borden Ranch
Cosumnes River
Jahant
Clement Hills
Mokelumne River
Dunnigan Hills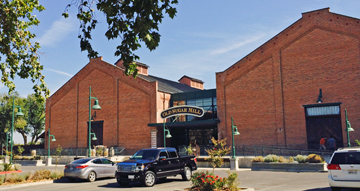 The Old Sugar Mill located about 15 minutes from Sacramento is a destination site for wine lovers. To reach the Old Sugar Mill from Sacramento, visitors will travel through quaint towns and cross the Sacramento River on a unique, metal bridge.
The history behind The Old Sugar Mill dates back to the 1800s. Originally the large, red brick building was built in Utah for producing beet sugar. The sugar mill was dismantled and brought to the Clarksburg area where it reopened in the mid 1930s. The final ownership of the sugar mill was Delta Sugar that closed the mill in 1993. The facility was closed in 1993.
Years later the Old Sugar Mill was renovated including the addition of an atrium between the two brick sections of the mill. Numerous events take place under the atrium. The historic mill is home to more than 10 wineries and tasting rooms. Also onsite is a custom crush facility.
---
Visit these California organizations and wineries that partner with Wine Trail Traveler.