Three Wine Company
by
Terry Sullivan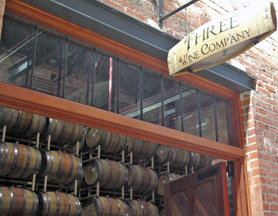 Summary: Visitors to Three Wine Company can taste a variety of wines from vineyards in the North Coast and Central Coast regions. Several of the wines are made from old vines. While in the tasting room area, view the display of an old vine.
The logo for Three Wine Company has three number threes intertwined, a number three, a Roman numeral III and the word three. Three is important to the owners, Matt and Erin Cline. Their philosophy of wine growing and winemaking is a blend of three important factors: the dirt, the micro-climate, and sustainable wine-growing. These three principles guide the growing and crafting of wine.
Matt and Erin are not new to the wine industry. Matt studied enology at the University of California, Davis. His winemaking career began in 1982 when he started to help his brother at Oakley winery. In 1985, Matt was the winemaker at Cline Cellars. A year later he joined Conn Creek as assistant winemaker. During his 16 years at Cline Cellars, Matt met Erin. They later were married. Matt left Cline Cellars in 2001 and Matt and Erin founded the winery Trinitas Cellars. They sold the winery and in 2006 created Three Wine Company. Today, Matt continues as the winemaker and Erin manages the company and oversees the tasting room at the Old Sugar Mill in Clarksburg.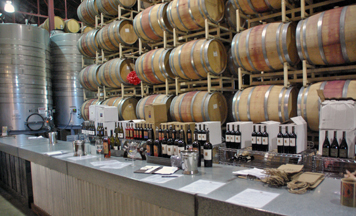 Matt sources his grapes from growers in Contra Costa and the Russian River. The wine is made at their space in the Old Sugar Mill, where they also have a tasting room. Barrel staves hang outside the winery marking the entrance to Three Wine Company from the wide-hallway at the Old Sugar Mill. The stainless steel tasting counter is near the front of the room. Behind the counter there are eight rows of barrels stacked six high. To the sides of the area there are several stainless steel tanks. The production area is behind the barrels and tanks.
In an email interview with Matt, I asked him what were the advantages of locating his winery in the Old Sugar Mill. He wrote back with an extensive list of items:
Winery

· Location is only 50 minutes from our main vineyard sources.
· Custom crush winery available next door for production help, access to equipment and supplies when needed, and future growth options.
· Location near UC Davis is an advantage for obtaining harvest interns.
· Cost of Living for employees is better in Sacramento than in either Sonoma or Napa.
· Even though we are all independent of each other, it is nice to have multiple wineries together to advance all of our winemaking knowledge by observing and casually discussing our collective winemaking techniques.
· Even though Erin and I live in Sonoma, travelling to Clarksburg is a reverse commute. It is always better to shuttle up and down I-80 at 70 mph than sit in Bay Area Traffic.

Tasting Room

· Sacramento has 2.5 million local inhabitants within 25 minutes of our door.
· Tasting room competition is low compared to Napa and Sonoma.
· Joint marketing with the Old Sugar Mill and the rest of the tasting rooms is an advantage with increased available dollars to spend on promotions and advertisements.
· There is a lot of charm to the restored old brick buildings and the galleria forms a mall dedicated to wine.
· Loyal wine club members who often return to the tasting room to take advantage of their discount. Well attended release parties that include increased purchasing opportunities.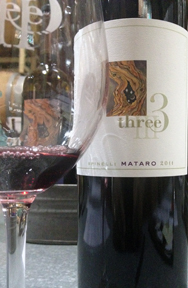 Wines
We tasted several wines during our visit. The 2011 Chardonnay Stanley Ranch Vineyard Napa Valley was a light yellow color and was 14.3% alcohol. The wine offered tropical fruit notes and minerality. It was full-bodied and crisp. The wine retails for $28.
The 2011 Old Vine Zinfandel Contra Costa County was an opaque dark ruby color. The wine, at 15.4% alcohol, was made from one hundred year old vines of Zinfandel. To help visitors visualize old vines, a display of an old vine is adjacent to the tasting counter. The wine had notes of blackberries, black raspberries and perfume. It had bold tannins and was full-bodied with high acidity. The wine retails for $20. The 2011 Mataro Spinelli Contra Costa County was also made from grapes from 100 year old vines. Mataro is a synonym for the Rhone varietal grape Mouvèdre. The translucent ruby colored wine was 15.2% alcohol with floral, blackberry, chocolate and tobacco notes on the aroma and taste. The wine had bold tannins and a bit of heat on the finish. It was full-bodied with medium acidity. It retails for $32.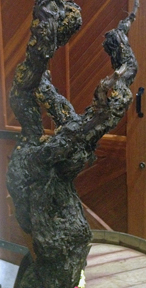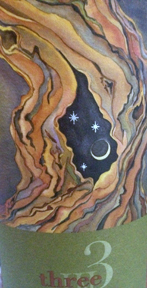 The label of the wines made with grapes from old vines show a drawing of an old vine at night. Through the vine's trunk there is the moon and three stars. The three stars represent the Cline's three children.
When traveling on Interstate 5 south of Sacramento, stop by the Old Sugar Mill. The mill is now home to several wineries with tasting rooms. Three Wine Company is owned by Matt and Erin Cline. You can sample different wines, some made with grapes from old vines.
Three Wine Company
35265 Willow Avenue
Clarksburg, California 95612
GPS: N38º 25.367' W121º 32.020'
Article written September 2014
---
Visit these California organizations and wineries that partner with Wine Trail Traveler.