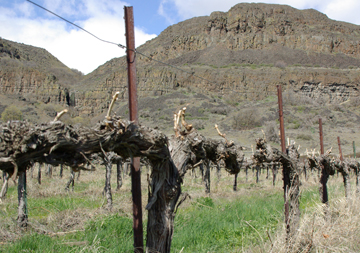 Washington is the second largest wine producing state in the United States. The earliest grapes were planted in 1825 while the commercial industry began in the 1960's. There are over 500 wineries throughout the state's eleven AVA's. Most of the wine grapes are grown east side of the Cascades. More than 36,000 acres of wine grapes are grown in Washington. A wide range of varietal grapes are grown in the state with a focus on Chardonnay, Riesling, Cabernet Sauvignon, Merlot and Syrah.
Our travels took us to the Columbia Valley, the Columbia Gorge and Walla Walla in the eastern part of the state and to Seattle and Woodinville in the western region of the state. The wineries we visited had little rainfall; one receives about eight inches a year. The area was considered desert and the wineries used drip irrigation in their vineyards. In stark contrast, the winery we visited in the Columbia Gorge area had much more rainfall with forests covering the surrounding mountains. Wineries in Seattle and Woodinville sorce many of their grapes from the eastern part of the state.
Washington State offers wineries with diverse terroirs surrounded by natural beauty. The dramatic river canyon provides views of the swiftly flowing Columbia River and high cliffs against a deep blue sky.
Washington's AVA's
Columbia Gorge
Columbia Valley
Horse Heaven Hills
Lake Chelan
Puget Sound
Rattlesnake Hills
Red Mountain
Snipes Mountain
Wahluke Slope
Walla Walla Valley
Yakima Valley
---
Please support this establishment that advertises with Wine Trail Traveler.