Hinzerling Winery
by
Terry Sullivan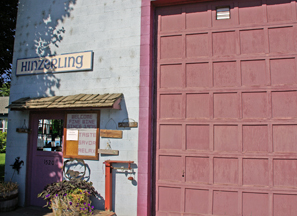 Summary: The Hinzerling Winery is one of the oldest in the Yakima Valley. The tasting room is located at a small table in the cellar. The rustic feel has a charm not felt in modern tasting rooms.
Hinzerling was the first boutique family owned winery in Yakima Valley. Mike Wallace, owner and winemaker, was in the United States Air Force and while stationed in Marin County, California, he spent time in Napa and Sonoma counties visiting wineries. His interest in wine continued to grow over the years. He learned that wine grapes were planted in Prosser, Washington and moved to the area with his parents in 1972. Mike and his father, Jerry, planted a vineyard and Mike worked as a research associate with Dr. Walter Clore. By 1976, Mike began producing wines made with Riesling and Gewürztraminer. As other wineries became established in the Yakima Valley, Mike change his portfolio to dessert wines. He has since sold his vineyards and now sources grapes from local winegrowers. Production is cut back and now consists of several port-like wines and a sherry-like wine. Mike teaches winemaking skills at the local community college.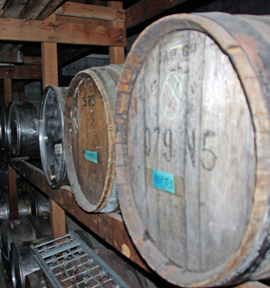 Visitors can experience a rustic building without a tasting room. Tastings are done on a small table in the cellar next to many old barrels. There is a small retail area adjacent to the wine cellar. Of interest were the many different bottles of wine vinegars.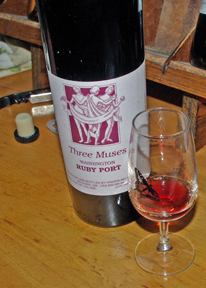 Wines
Captain's Cask is a white port-like wine. It was made from a blend of Chardonnay, Semillon, Gewürztraminer, Pinot Gris, and Chenin Blanc that had been fermented separately. The resulting blend was a yellow gold color with an aroma of golden raisins. The taste offered raisins with a hint of citrus. There was a little alcohol burn on the sweet jammy fruit finish. The Creme de la was a cream sherry that was golden. The wine was made from a blend of Riesling, Chardonnay and Muscat. The golden colored sherry-like wine offered a floral aroma and orange blossoms on the taste. The creamy, semi-sweet finish became drier on the aftertaste. Three Muses is a Ruby Port made from Cabernet Sauvignon, Lemberger and Syrah. There was a jammy fruit aroma and taste and a slightly sweet finish. The 1990 Vintage Port was a Sienna color. The sweet wine had jammy fruits aroma and taste.
In 2001 the Vintner's Inn at Hinzerling Winery was opened featuring a bed and breakfast and restaurant. Wine travelers who enjoy ports and sherries will want to include Hinzerling Winery on their itinerary.
Hinzerling Winery
1520 Sheridan Avenue
Prosser, Washington 99350 
GPS: N46º 12.631' W119º 46.099'
---
Please support this establishment that advertises with Wine Trail Traveler.