Basel Cellars Estate Winery
by
Kathy Sullivan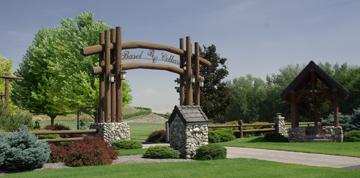 Summary: Basel Cellars Estate Winery in Walla Walla, Washington offers numerous wines to taste in a facility that is eye-catching. The complete facility is like a log-style lodge.
The entrance to Basel Cellars Estate Winery off of Old Milton Road is impressive. The approach to the facility is a long, paved road that curves around and up to a higher elevation. Visitors will be greeted with a view of an immense log-style lodge with a large patio. Although a glimpse of vineyards can be spotted at the bottom of the winding drive, at the top views of acres of vineyards provide photo opportunities.
Basel Cellars is owned and operated by Greg and Becky Basel. Justin Basel, their son, is the winemaker. The Basels established the winery in 2001 and this was the year of their first vintage. When Greg and Becky entered the vineyard and winery business they were initially interested in producing and selling grapes to other wineries. Justin became interested in winemaking and today the winery produces 8,000 to 10,000 cases.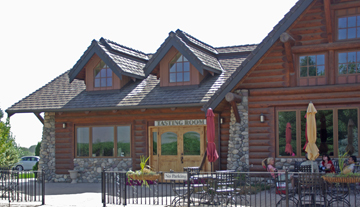 Tasting Room
The tasting room is a good size and in addition to Basel wines gourmet items infused with Basel Estate Cellars Cabernet Sauvignon are for sale. These include Balsamic and Basil Vinaigrette, Herbed Grilling Sauce and Grain Mustard. Wine accessories are also available. The tasting room has an adjacent large room with numerous tables. The centerpieces chosen for the tables are select pieces of glass artwork. These are also for sale.
A patio offers views of vineyards. Wrought iron tables and chairs provide a tranquil area to enjoy the views of acres of vineyards and mountains. Red and yellow umbrellas add color to the area.

Vineyards
Grapes are sourced from two vineyards. Pheasant Run Vineyard has 32 acres of grapes that include Cabernet Sauvignon, Syrah, Merlot and Cabernet Franc. The Basal Cellars Vineyards with 26 acres of grapevines include Cabernet Sauvignon, Merlot, Syrah, Tempranillo, Semillon and Cabernet Franc. In addition the winery sources grapes from vineyards in the Columbia Valley AVA.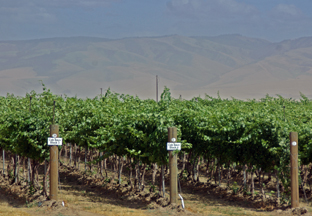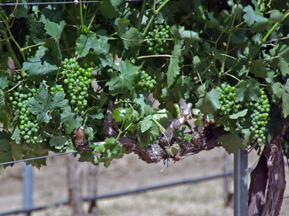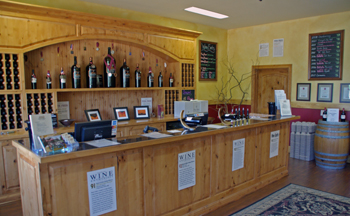 Wines
We tasted wines while enjoying talking with Gina Eggers, a wine consultant in the Basel tasting room. Riedel stemware is available for the tasting experience. The Claret 2007 was a blend of Cabernet Sauvignon, Merlot, Cabernet Franc, Malbec and Petit Verdot. The result was a ruby wine with an aroma of cherries with mineral hints. The taste had cherry notes. The wine finished with tannins and cherry nuances. Basel Cellars Estate 2006 Cabernet Sauvignon Pheasant Run Vineyard offered blackberry nuances on the aroma and taste. The fruity finish had tannins. Merlot 2006 Pheasant Run Vineyard was a ruby/purple color. There were nuances of black cherries with tannins on the finish. Merriment 2006 Pheasant Run Vineyard was a blend of Cabernet Sauvignon, Merlot and Cabernet Franc. The color was dark ruby. The aroma offered blackberry nuances with a chocolate hint. The taste also had blackberry nuances. The finish was fruity with light tannins. Syrah 2006 Pheasant Run Vineyard was a dark purple. The aroma and taste had notes of black cherries and baking spices. The finish was fruity with bold tannins.
This is also a resort and Wine Club members are allowed to rent the large lodge that is adjacent to the tasting room.
Basel Cellars Estate Winery
2901 Old Milton Highway
Walla Walla, Washington 99362
GPS: N46º 01.018' W118º 23.744'
---
Please support this establishment that advertises with Wine Trail Traveler.