L'Ecole No 41
by
Kathy Sullivan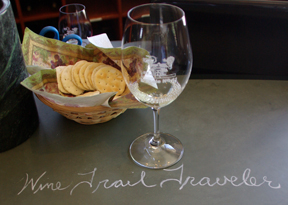 Summary: L'Ecole No 41 winery is a family owned winery. The tasting room is in an old schoolhouse building. Visitors to the tasting room will discover many school items including chalkboards and built in bookshelves. There are a variety of white and red wines to taste.
The L'Ecole No 41 tasting room is located in an early 1900's school building. The school opened in 1915 and closed in 1974. When visitors enter the double wood doors immediately in front of them is a short set of steps up to a large tasting room area. A deck wraps around two sides of the building. Inside the top of the tasting counter is green chalkboard and small pieces of chalk are available for visitors to draw on the chalkboard tasting counter. Chalkboards on the walls add to the school atmosphere.
The tasting room offers plenty of room to browse and enjoy the available gift items. A special handcrafted item is a large lazy susan made with a L'Ecole No 41 barrelhead. Other items include gourmet vinegars, grape seed oils and wine accessories. Sets of coasters are available with a saying, "You're never too old for recess." Anyone interested in vertical tastings may enjoy the two-boxed vertical tastings available. Each boxed set contains three vintage magnum bottles of Estate Perigee or Apogee.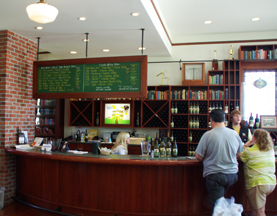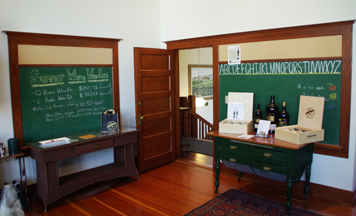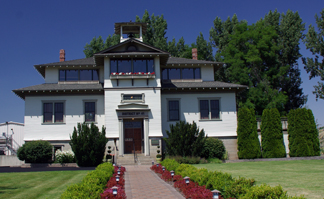 Jean and Baker Ferguson purchased the old school building in 1979. L'Ecole No 41 translates to "the school" and No 41 the school district number 41. By 1983 the winery was established and producing Merlot and Semillon. Then Cabernet and Chenin Blanc was added to the portfolio. The winemaking and ownership was changed to Megan and Martin Clubb, the Fergusons' daughter and son-in-law. Martin is also the winemaker.
Under Megan and Martin, L'Ecole No 41 produces between 30,000 and 35,000 cases. During the 1980's, a contest was held among the family to create a label design. The winning entry was by the eight year old Ryan Campbell. The colorful drawing is of the tasting room building with a hot air balloon made of grapes hovering near the school.Today Ryan is an architect.
A demonstration 1.3-acre vineyard of Cabernet Sauvignon was planted next to the tasting room in 2004. Visitors can walk the beautifully landscaped grounds and view the vineyards, flowers, shrubs and water falls.
While some of the wines are estate bottled, the winery sources other grapes. The soil in the Walla Walla Valley is classified as alluvial gravel, loess over Missoula flood sediment, loess over basalt and wind deposited silt loess. Each type influences the grapes growing in the soil.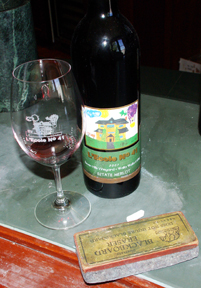 White Wines
Riley Clubb conducted the tasting. Semillon 2008 was produced with grapes from the Wahluke Slope AVA. The wine had a floral aroma. The taste offered pear and honeysuckle nuances. The finish was smooth with mineral notes. Chenin Blanc 2009 Columbia Valley was 100 percent Chenin Blanc and had one percent residual sugar. This pale yellow wine offered sweet, fruit and orange blossom notes on the aroma. The taste had fruity nuances with hints of apple and citrus. The wine was slightly drying on the finish. Chardonnay 2008 Columbia Valley was light yellow. The aroma offered nuances of mineral and apple. The wine taste was fruit forward and dried on the finish.
Red Wines
Estate Merlot 2007 Seven Hills Vineyard, Walla Walla Valley was a blend of 81 percent Merlot, 11 percent Cabernet Sauvignon and 8 percent Cabernet Franc. This dark red wine offered an aroma of black fruit with earthy tones. The taste had nuances of black cherries, blackberries and spice with a cocoa influence. The finish was crisp with tannins and fruit forward. Cabernet Sauvignon 2007 Walla Walla Valley produced with 100 percent Cabernet Sauvignon was a ruby color. The aroma had notes of blackberries and pepper. There were also nuances of blackberries on the taste. The finish was bold with tannins and fruit. Perigee Estate 2007 Seven Hills Vineyard, Walla Walla Valley was a blend of 60 percent Cabernet Sauvignon, 30 percent Merlot and 10 percent Cabernet Franc. The result was a wine with dark fruit notes. The taste offered dark fruit nuances especially blackberries. The finish was fruity with bold tannins. Apogee 2007 Pepper Bridge Vineyard, Walla Walla Valley was a blend of 60 percent Cabernet Sauvignon, 30 percent Merlot, 6 percent Malbec and 4 percent Cabernet Franc. This ruby wine had nuances of dark fruit and spice. The taste offered blackberry notes. The fruity finish had bold tannins.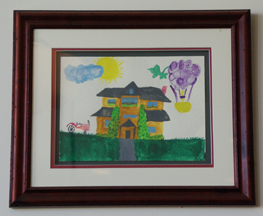 Enjoy a visit to L'Ecole No 41 winery located just outside of Walla Walla, Washington. Step back in time to an early twentieth century schoolhouse that today provides an enjoyable setting for wine tasting.
L'Ecole No 41
41 Lowden School Road
Lowden, Washington 99360
GPS: N46º 03.393' W118º 35.009'
---
Please support this establishment that advertises with Wine Trail Traveler.