Wind River Cellars
by K. L. Sullivan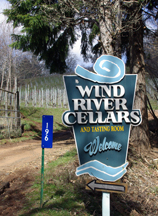 Summary: Traveling along a winding road leads visitors up through tall coniferous trees that opens out onto a space with an inspiring view of the famed Mount Hood. The winery is located here with nearby vineyards. The tasting room is laidback and Joel or his wife, Kris, will be pouring your tastings. Joel is 100% dedicated to Washington state wine.
Joel and Kris were involved in the wine industry in Oregon for several years. When the opportunity presented itself, they moved back to their home state of Washington. Joel and Kris are dedicated to Washington as a quality wine producing state. Located in the Columbia Gorge AVA, Joel and Kris began the winery in 1995 and today they have twenty acres on the estate. Currently, they produce 3500 to 4000 cases and sell 90 to 95 percent out of the tasting room. This is a vertical winery and vineyard operation for Joel and Kris who are involved in all aspects of the vineyard, winemaking, bottling, selling and the tasting room.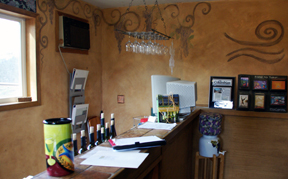 As we stood at the tasting counter, a large window in front of us highlighted Mount Hood. The beautiful view from the tasting room out to the mountains offers constantly changing scenes as clouds float past the mountain tops and at times the mountains sparkled with the glow of sunshine. A large deck is located just outside the tasting room. Below the deck is a large lawn area available for weddings with a beautiful mountain view.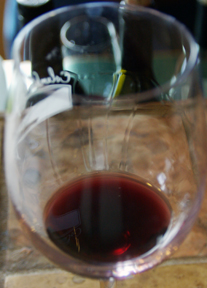 We tasted several wines beginning with Dry Gewurztraminer. This wine had a spicy nose, fruit taste and a dry fruit aftertaste. Tempranillo offered a fruity and crisp finish and soft tannins. Lemberger had a dark purple opaque color. There was licorice on the nose and a very fruity taste with a bit of pepper on the taste. Lemberger had a crisp finish. The nose on the Riesling 2006 was a floral bouquet of roses and honeysuckle. This Riesling had a fruit taste, was sweet but finished dry. Riesling 2007 from a tank had a mineral nose and fruit taste with a bit of effervescence on the finish. Chenin Blanc was picked with a high level of sugar, 45 brix. This was a sweet dessert wine with a smooth mouth feel and a sweet finish. The acid balances with the sugar. Joel made a White Port from Riesling. It was very fruity, sweet and crisp. Port of Celilo, a red port, had a blackberry and chocolate taste, a smooth mouth feel and sweet finish with lingering fruit aftertaste.
When planning your visit to Wind River Cellars, discover the many recreational activities in the area. If you visit on a vacation day, be sure to ask for a "special" winery tour by one of the children in the household.
Joel and Kris participate in a program with Vocation Vacations. If you are interested in learning about experiencing what it takes to be a winemaker contact Vocation Vacations.
 

Wind River Cellars
196 Spring Creek Rd.
Husum WA 98623
GPS N 45°81.189 W 121° 51.420
---
Please support this establishment that advertises with Wine Trail Traveler.