Cascade Cliffs Vineyard and Winery
by K. L. Sullivan

Summary: Bob Lorkowski has big plans for Cascade Cliffs Vineyard and Winery. At the moment, Bob has completed the framing of extra space at the winery. Hands on learning is the key to Cascade Cliffs. Most important is the laidback, relaxing atmosphere at the winery.
Bob bought Cascade Cliffs in 1997. Cascade Cliffs, under a previous owner, began in 1990, four years after the Merlot was planted. Currently Bob has 23 acres of Merlot, Nebbiola, Barbera and Cabernet Sauvignon. The Barbera vines are the oldest block of Barbera in Washington State. The winery is located in the Columbia Valley AVA, close to the Columbia River where the soil in some areas is eight feet deep, silty and sandy. Bob produces 3000 cases of wine and hopes to increase production in the future.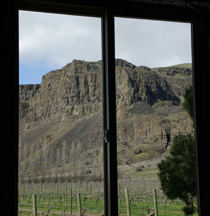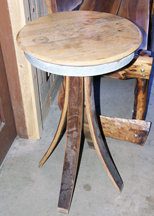 The tasting room on a blustery day had an effective heating element not far from the tasting bar. A window frames the barren desert-like 400 foot tall basalt cliffs just yards from the winery. Four to six visitors can stand or sit at the tasting bar. Handmade tables and a wood bench were in the tasting room. Handmade is a theme at this winery. Bob has plans for expanding including a grape arbor, an additional event room and additional room for the winery.
Hands on learning is an important focus at this winery. Bob experienced winemaking from his grandfather and continued his education with other winemakers. Visitors will enjoy Bob's laidback nature and will also learn about the wines and winemaking.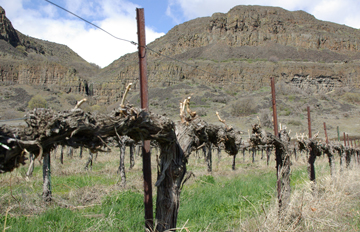 We had a tour of the winery and vineyard. As we walked with Bob through some of the vineyards, he pointed out sections of one and two year old vines. It would be difficult to find a more photographic area than the area surrounding Cascade Cliffs Vineyard and Winery. Visits throughout the seasons offer ever-changing views of the landscape.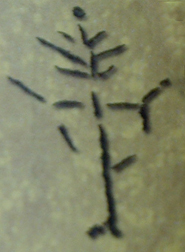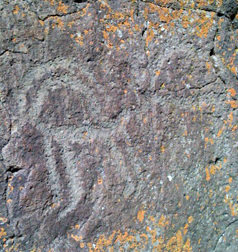 There is one label design for all of Cascade Cliffs labels. Only small marks, one can imagine it might represent several different concepts. This label is unique because it is based on a petroglyph from rocks nearby. Petroglyphs are found in every area of the world except Antarctica. Petroglyphs have been traced back several thousand years and the one used for the label design may be as old as ten thousand years. Other designs are also located near the winery.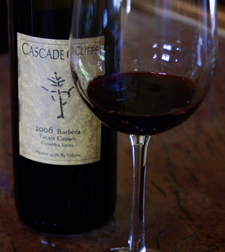 While visiting with Bob, we tasted several wines. Barbera was the best selling wine with a red fruit nose, very fruity taste and ends dry but with a perceived sweetness from the fruitiness. Nebbiolo 2000 had a red cherry nose and taste. Nebbiolo 2004 was aged for two years in the barrel and one year in the bottle, with a resulting cherry nose and taste. The Merlot 2006 had a red fruit nose and taste with a crisp finish and lingering fruit aftertaste.
When visiting Cascade Cliffs, be sure to allow enough time to taste the wines and savor talking with Bob who is happy to share his knowledge and experience. Bring a camera and capture the views of the Columbia River and rock formations.
Cascade Cliffs Vineyard and Winery
8866 Hwy 14, PO Box 14
Wishram, WA 98673
GPS N 45°66.000 W 121°05.721
---
Please support this establishment that advertises with Wine Trail Traveler.