Washington Wine & Beverage Company
Silver Lake Winery, Girly Girl Wines, Glen Fiona
by
Kathy Sullivan

Summary: Washington Wine & Beverage Company is the largest consumer owned winery in the state of Washington. Silver Lake Winery, Girly Girl, and Glen Fiona brands are under the parent company Washington Wine & Beverage Company. In addition, the company has an agreement with Hoodsport to produce their "Orca Series" wines and sell Hoodsport wines. Girly Girl Wines are the newest line of wines and is very popular.
At the Silver Lake Winery tasting room in Woodinville, Washington we met Frank Standefer who is the tasting room manager and knows the story behind the parent company, Washington Wine & Beverage Company as well as the wines. According to Frank, this is a winery that is available to everyone; they are producing quality wines at a good price point. We enjoyed tasting Girly Girl wines and learning about this consumer owned winery and the brands Washington Wine & Beverage Company produces.
In 1987 four individuals began Washington Wine & Beverage Company. The winery turned into one of the largest wineries in Washington. The Washington Wine & Beverage Company is the parent company of Silver Lake Winery, Girly Girl and Glen Fiona wines.
In order to help with the startup costs of owning a winery, from 1987 to 1989 the company produced and sold hard cider. This gave them the additional capital they needed while the wines were aging. In 2006, they joined with Hoodsport to market and sell the Hoodsport brand wines.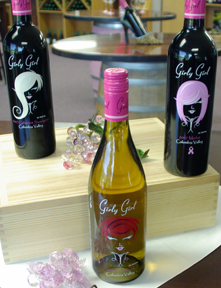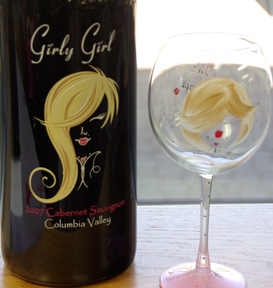 In 2009, the company added Girly Girl Wines to their portfolio. Girly Girl was the result of a MBA business plan competition entered by Karen Ward, one of the Silver Lake founder's daughters. Girly Girl Wines seek to capitalize on what is important for women when they purchase a bottle of wine. The label designs are light-hearted fun. Girly Girl Wines supports breast cancer research by donating a portion of its proceeds to the cause. Since the business plan was ready, it was a matter of details and implementation. Clothing decorated with Girly Girl designs is available. These wines are selling very quickly. While the idea behind the wines is fun, the quality of the wines is also good.
Today Washington Wine and Beverage Company produces over 60,000 cases of wine. Of this, Silver Lake produces 50,000 cases and Glen Fiona produces 10,000 cases. The current Girly Girl brand wines are selling out immediately.
The Woodinville tasting room has special events and most of these take place in the tasting room. There is plenty of room to walk about and browse the numerous wine selections available. Visitors can choose from a variety of wines and will undoubtedly find a wine they enjoy. The large tasting room is divided between the brands and each brand has a tasting counter.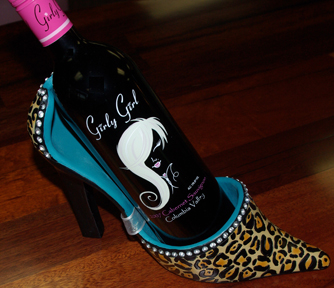 Girly Girl Wines
We tasted the available Girly Girl wines. Chardonnay 2008 was a blend of Chardonnay, Sauvignon Blanc and Gewürztraminer. The wine offered an aroma of pear and apple nuances. The taste was smooth. The fruity finish offered a long aftertaste. Girly Girl 2008 Pinot Gris was a golden yellow. The aroma and taste had notes of grapefruit and was smooth. The finish was smooth with a lingering grapefruit aftertaste. Girly Girl 2007 Merlot was a blend of Merlot, Cabernet Franc and Syrah. The color was dark red to sienna. The aroma and taste were plum. The finish had soft tannins and was fruity. Girly Girl 2007 Cabernet Sauvignon was a blend of Cabernet Sauvignon, Cabernet Franc and Syrah. The color was a dark purple with a ruby rim. The aroma had notes of blackberries. The taste had nuances of blackberries with a hint of licorice. The finish was fruity with tannins.
Discover and taste Washington Wines & Beverage Company at one of three tasting rooms in Washington. The locations for the tasting rooms are Woodinville, Walla Walla and Zillah.
Washington Wines & Beverage Company Woodinville Tasting Room
15029 Woodinville Redmond Road Northeast
Woodinville, WA 98072
GPS: N47º 44.247' W122º 09.384'
---
Please support this establishment that advertises with Wine Trail Traveler.