Airfield Estates
by
Kathy Sullivan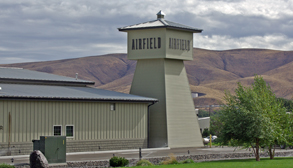 Summary: Wine enthusiasts and aviation hobbyists will enjoy a visit to Airfield Estates in Prosser, Washington. Wine enthusiasts will discover numerous wines to taste and aviation hobbyists will enjoy viewing the demonstration airplane that was built using an oak barrel. The winery has total control of the wine from the vineyards through the winery. Besides the tasting room in Prosser, there is also a tasting room in Woodinville just outside of Seattle.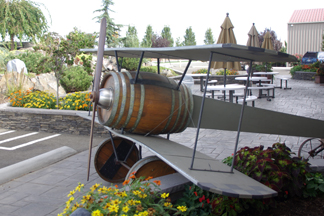 Visitors to Airfield Estates will discover the tasting room and winery in a gray building with a structure reminiscent of a water tower on an airbase. A patio in the front of the facility is enhanced with a delightful stone wall with landscaped gardens and three waterfalls. A plane built with an oak barrel is delightful to view.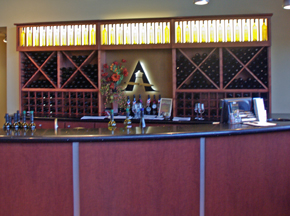 The tasting room offers an elegant display of wines housed in a large wood display case. Visitors can view two oak barrel rooms through large windows in the tasting room area. At the facility, an Officer's Club Room is for members of the Airfield Estates wine club.
Airfield Estates is located in the Vintner's Village section of Prosser, Washington, just off Exit 80 on Interstate 82. This is a family owned and operated winery with 900 acres of wine grapes and another 350 acres of Concord grapes that are sold to Welch's. Airfield wines are produced with 100 percent estate grown grapes. The vineyards are located 12 to 15 miles from Prosser, in Sunnyside, Washington.
The land has been in Mike Miller's family for several generations, and at one time was leased to be an airbase. After the lease expired the leased portion was taken back by the family. The first vineyards were planted in 1968. His son changed careers and returned to the Prosser area to eventually become the winemaker and an owner. The vineyard is in the Yakima Valley AVA and near the Rattlesnake Mountains. The main wine grape varietals growing include Chardonnay, Riesling, Merlot, and Cabernet Sauvignon. Besides producing their own wines, Airfield Estates sells grapes to other wineries including Chateau Ste. Michelle, Hogue, Pacific Rim and Waterbrook.
In early 2000, the family became involved in the winery business. The wine tasting room opened in 2007 and the winery produces 22,000 cases of wine. Over time they would like to grow to 40,000 cases.
Events
The winery tasting room offers numerous events for the public as well as private events. Wine lovers may want to attend a winemaker's dinner. Other events include Facebook Fridays, Grape Stomps, holiday events and Wine Club Release Parties. Look for future events in Prosser and Woodinville.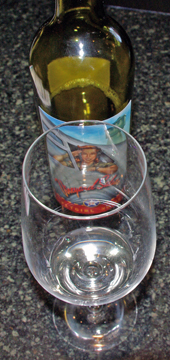 White Wines
Flygirl White 2010 was a blend of Roussanne, Semillon and Viognier. This straw colored wine offered aroma and taste notes of pear with citrus nuances. The finish was crisp and fruity. Riesling 2010 was a light yellow with a clean, crisp aroma. The taste was sweet and fruity while the crisp finish lingered.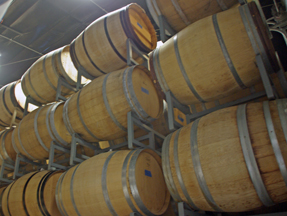 Red Wines
Cabernet Sauvignon 2008 was aged in oak barrels for 18 months. The dark red wine had notes of oak and black fruit. The finish was fruity with tannins, Spitfire 2009 was a blend of Sangiovese, Cabernet Sauvignon, Merlot, Petit Verdot and Malbec. The wine offered black fruit notes. There were bold tannins on the fruity finish.
Enjoy a visit to Airfield Estates tasting rooms in Prosser or Woodinville, Washington where the wines are produced from 100 percent estate grown vineyards.
Airfield Estates
560 Merlot Drive
Prosser, Washington 99350
GPS: N46º 13.245' W119º 46.593'
---
Please support this establishment that advertises with Wine Trail Traveler.