Hogue Cellars
by
Kathy Sullivan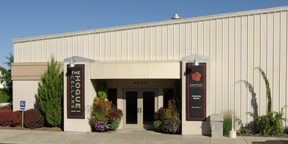 Summary: Hogue Cellars, started by Mike Hogue, is now owned by Constellation Brands. Hogue's lines of wines include Terroir Wines, Reserve Wines, Genesis Wines and Hogue Wines. The Terroir Wines and Reserve Wines are available only in the tasting room. Hogue Cellars is located in Prosser, Washington.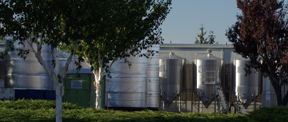 Hogue Cellars' tasting room is located in a modern style building close to Exit 82 on Interstate 82 in Prosser. The winery production facility is located minutes away from the tasting room. Driving past one can see many tanks, some with a conical shape, and the crush pad area.
Background
Mike Hogue has been involved in the wine industry since 1979 when he planted his first vineyards. His first vintage was in 1982 which he sold at the Prosser Food Fair. He made $800 at the festival and this inspired Hogue to consider becoming involved in the industry.
The current Hogue production facility opened in 1982 and its first vintage was 1,000 cases. In 1983 production increased to 5,000 cases. Currently Hogue Cellars produces 650,000 cases. Mike Hogue sold the winery in 2001 to VinCor. The facility was then acquired by Constellation in June 2007.
Hogue Cellars does not own vineyards. Grapes are sourced from local regions including Wahluke Slope and Horse Heaven Hills AVA. Fifty plus grape growers have contracts for grapes with Hogue Cellars. Some grapes are also sourced from Mike Hogue's vineyards.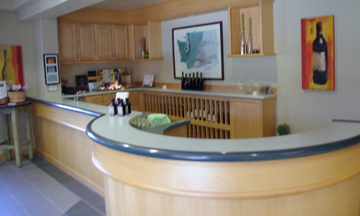 Tasting Room
Inside, the tasting room has two large bistro tables with chairs. The tasting room offers numerous wine related products to browse. Look for gourmet foods including pickled crispy carrots, asparagus, and snap peas. Other specialty foods include olive oil, scones and concentrated fruit including Black Raspberry and Black Currant. Other items to browse included cheese boards, Riedel glassware and bamboo flight stands that include places for four Riedel glasses. Large plantings create a welcoming ambience for visitors.
Wines
Hogue Winery produces four lines of wines including Terroir Wines, Reserve Wines, Genesis Wines and Hogue Wines. Two lines, the Terroir and Reserve, are available only in the tasting room and the other two are distributed.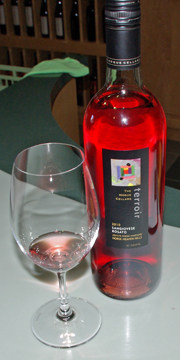 White Wines
Reserve Chardonnay 2008 was a light yellow. The wine was light and lively. This Chardonnay was unfiltered and unfined. The wine was in French oak barrels for 12 months. The aroma and taste offered green apple and citrus notes The finish was crisp, fruity and long. The apple aftertaste had a very faint trace of oak. White Table Wine 2009 was a blend of Viognier and Gewürztraminer and a bit of Muscat. This is a crisp, aromatic white wine with a dry, smooth taste. There were notes of apple and pear.

Red Wines
Terroir Sangiovese Rosato 2010 was produced with grapes from Zephyr Ridge Vineyards in the Horse Heaven Hills AVA. The grapes were on skins for 22 hours. The result was a beautiful dark pink color. The wine was aromatic. The taste was crisp and dry. This wine would be good paired with a variety of food or enjoyed by itself. Reserve Merlot 2006 Wahluke Slope AVA was a dark ruby. There were notes of red cherries and a touch of oak. The chewy finish had tannins and cherry nuances. Terroir BIII (BIII stands for the three Bordeaux varieties of Merlot, Malbec and Cabernet Sauvignon.) This was a ruby wine offering dark fruit notes with tannins on the fruity finish. Terroir Syrah Fries Vineyard 2007 Wahluke Slope AVA was a dark purple. The aroma was fruity and earthy. There were notes of black raspberries. Tannins were on the finish and the fruit lingered.
Enjoy a visit to Hogue Cellars, located only three hours from Portland, Oregon and Seattle, Washington.
Hogue Cellars
2800 Lee Road
Prosser Washington, 99350
GPS: N46º 13.092' W119º 43.867'
---
Please support this establishment that advertises with Wine Trail Traveler.