Georgia
საქართველო
Sakartvelo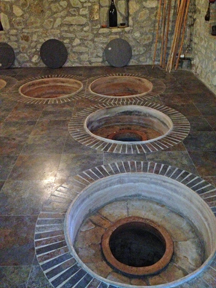 To many Georgians, Georgia is the "Cradle of Wine." Many people can conceive of wine to the time of the Ancient Greeks and Romans. Others can go back in time a bit further to the Etruscans. However, archeological evidence points to cultivated vineyards and winemaking, preceding the time of the Etruscans by thousands of years. The archeological findings point that the part of the world where wine was born is the land south of the Caucasus Mountains in what is now Georgia. This land has been home to winemaking and wine grape growing for 8,000 years.
On the timeline of wine, stainless steel tanks and even oak barrels are modern materials for making wine. In Georgia, winemakers have made fermentation/aging vessels out of earth and buried them in the earth. These qvevri are made of clay, fired, lined with beeswax on the inside and then buried. There are a few variations of what a winemaker will put in the qvevri. Most qvevri wine is made with the juice, skins, seeds and stems of grapes all placed in the qvevri. Fermentation is is done with natural yeasts on the grape skins. After fermentation the cap fall to the bottom of the qvevri and the wine ages for months. Both red and white qvevri wines are made in the same way.
Georgia also has the greatest diversity of grape varieties in the world. The country has over 500 wine grape varieties. The most notable white wine grape is Rkatsiteli while the most notable red wine grape is Saperavi. These two grape varieties also have plantings in other parts of the world.
Kakheti
Kartli
Meskheti
Imereti
Racha
Lechkhumi
Guria
Samegrelo
Abkhazia
Adjara
Georgian Appellations
Tsinandali
Teliani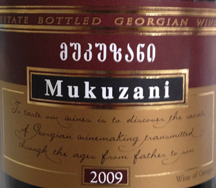 Napareuli
Vazisubani
Mukuzani
Akhasheni
Gurjaani
Kardenakhi
Tibaani
Kindzmarauli
Manavi
Khvanchkara
Tvishi
Kvareli
Atenuri
Sviri
Kotekhi
Kakheti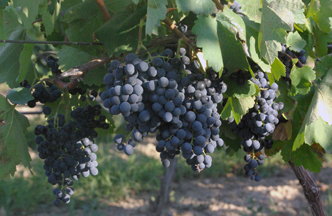 Grape Varieties
White Grapes
Chinuri
Goruli Mtsvane
Khikhvi
Kisi
Krakhuna
Kudurauli
Mtsvane
Rkatsiteli
Tsitska
Tsolikouri

Black Grapes
Aladasturi
Aleksandrouli
Budeshuri
Dzelshavi
Kapistoni
Mujurentuli
Ojaleshi
Otskhanuri Sapere
Saperavi
Shavkapito
Tavkveri
Usakhelouri