Zurab Topuridze Wine Cellar
by
Kathy Sullivan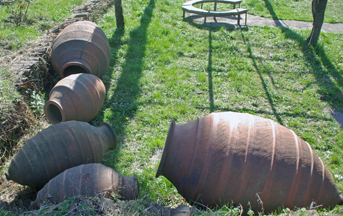 Summary: Zurab Topuridze Wine Cellar is located in Georgia's Guria region in the village of Sakvavistkhe. Zurab, owner and winemaker, has 12 hectares of vineyards and 10 buried qvevris. The primary focus of Zurab is on the grape variety Chkhaveri.
Approaching the Zurab Topuridze Wine Cellar, we were in a lightly wooded area with high trellised grapevines. A stone parking area was in front of a red brick, one-story building with a roof of clay tiles. The winery is protected by a hillside. Outside of the winery, the area is filled with seating areas and numerous qvevris of all sizes. These qvevris were a little more decorative than other qvevris we had seen earlier. There were outer rings going around the qvevris and brush strokes between the rings. The qvevris were made locally in the Guria region. In the distance, views of the Caucasus were delightful.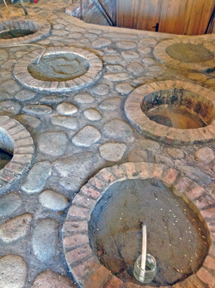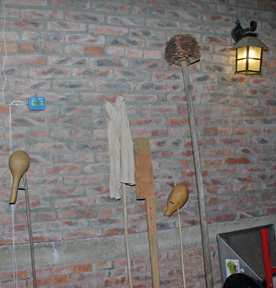 Marani
The front of the wine cellar has double wood doors with an arched overhead. Upon entering the wine cellar, we saw that it was larger than it appeared from the outside. Several qvevri were buried here. We learned about Zurab and his winemaking skills.
Zurab comes from a family that has been making wine for generations.
Eventually we were led down several steps into a basement where we saw a stainless steel tank. We soon entered an adjacent room where wine bottles are stored. After securing a bottle of wine, we entered Zurab's nearby home, which we found to be cozy and friendly.
While we did not have the opportunity to meet Zurab, we had a delightful tour by Zurab's cousins, who are enthusiastically supportive of Zurab's wine cellar.
Zurab's marani is three years old with ten buried qvevris. At the time of our visit Zurab was producing 3,000 liters of wine. Zurab has 12 hectares of grapevines and the majority of these are Chkhaveri. He also has 11 other grape varieties in the vineyard.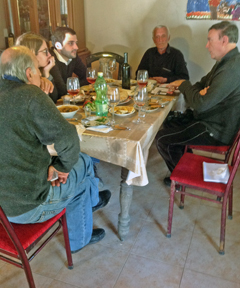 We enjoyed the conversation and the wine tasting with traditional Georgian foods including tasty khachapuri, bread, cheese and chicken.
Wines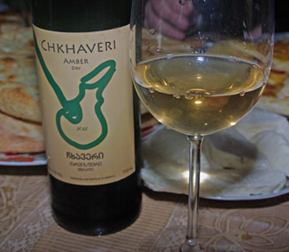 We tasted Zurab's Chkhaveri 2011 Amber wine that was a light gold color made in qvevri with chacha. The wine was in qvevri for one year. The aroma of the wine was floral with yellow stone fruit notes. The taste also offered yellow stone fruit notes. The finish was crisp and fruity. Suggested pairings included: salads, fish, poultry and cheese. The back label reads: "Grapevine variety Chkhaveri belongs to ancient group of vines native to Black Sea basin. Unique wines are produced from the rare variety of grapevine growing in pre-mountainous villages of Georgia regions Guria, Adjara and Abkhazia."
Chkhaveri Rose 2012 was produced by allowing the juice to have skin contact for 15 days. The wine was a reddish color with an orange tint. The aroma reminded one of walking through a forest. The taste had herbal and vegetal notes. The finish had mild tannins with vegetal and herbal notes including peppers, parsley and sage.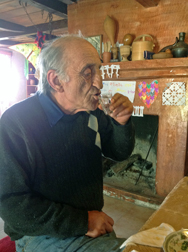 Zurab also produces an intense Chacha that offered an aroma of alcohol. It was very tasty with a very high alcohol of over 60 percent. According to Zurab's cousins "drinking 30 percent to 40 percent alcohol Chacha is a waste of time."
A design of a gourd dipper is on the bottle label. We asked what the Georgian name was for it. "Kope" is a gourd that is hollow and dry. It is used to dip into qvevri to collect wine to taste.
Currently Zurab is producing 5,000 bottles of wine. In 2014 Zurab exports his wines to Japan, France and Italy.
Zurab Topuridze Wine Cellar
Sakvavistkhe, Guria, Georgia
Article Written April 2014