Château Mukhrani
by
Kathy and Terry Sullivan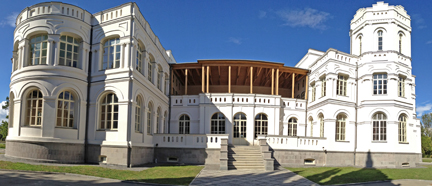 Summary: Located about 25 minutes from Tbilisi, Georgia, visitors are welcome to discover the winery rebuilt on the grounds of a late 1800s winery and vineyard. The large, white castle is almost restored and will have restaurants. Below ground is a large qvevri aging room.
Château Mukhrani is located on the site of an abandoned castle that once was a wine estate built in 1875. Related to the Bagrationi Dynasty, Ivane Mukhranbatoni had been to France. Upon returning to Georgia, he began producing Georgian wines using techniques he had learned while in France. The winery produced sparkling wines and won the Grand Prix in the St. Petersburg wine competition in 1882. Through the subsequent century, though, the property deteriorated.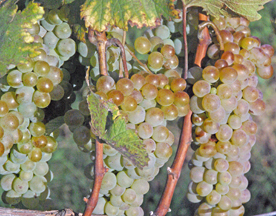 Vineyards
In 2002 a small group made the decision to invest in and restore the castle and plant the vineyards. Of the original vineyards planted by Prince Ivane, none were left. In 2002 and 2003, 92 hectares (227 acres) of vineyards were planted. Now they have 87 hectares in production with five hectares being replanted. Grape varieties include Goruli Mtsvane, Chinuri, Chardonnay, Sauvignon Blanc, Rkatsiteli, Muscat, Tavkveri, Shavkapito, Saperavi and Cabernet Sauvignon.
In front of the chateau, a large water fountain is being restored. It is rumored that the Prince had parties for the nobility and the fountain had sparkling wine running through it.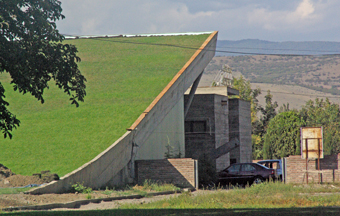 According to Jacques Fleury, Director, this is "absolutely a perfect area" for the vineyards and winery. He followed this up with the "terroir is exceptional." Currently the chateau is being restored. An extended area under the castle is a qvevri room for aging wines. Today Château Mukhrani produces 500,000 to 600,000 bottles of wine.
The property has a large modern winery for the production of European styled wines. A living roof covers the winery. The roof slopes and touches the ground. Mowed green grass on the slope is used for seating for special events such as concerts.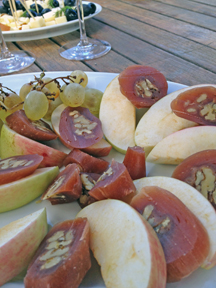 We tasted several wines at a picnic table near the winery production area. A tasting room is located inside the facility but it was a beautiful day for a wine tasting outside. Outside tables and chairs are available and nearby are reminders of earlier days including a vintage wood press and a clay bread baker. Along with the wine there was an assortment of foods. A platter of grapes, apples and Churchkhela accompanied a platter of olives and cheeses. Churchkhela is a confectionery made by stringing walnuts together then dipping and coating with boiled down grape juice. Once dry, the Churchkhela is cut into ½ inch pieces.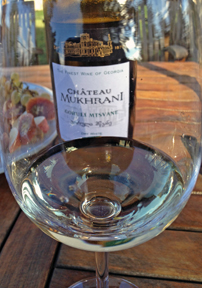 White Wines
Goruli Mtsvane 2011 was a light yellow. The wine offered floral notes with some hints of yellow stone fruit. The taste reminded one of nectarines, citrus and roses. The finish was crisp and fruity. Rkatsiteli 2010 was a light yellow with notes of floral, minerality and some stone fruit. The finish was crisp and fruity.
Red Wines
Tavkveri 2011 was red with an orange hue. The wine was vinted as a white wine, pressed and fermentation started. There was little skin contact. The aroma and nose of the wine was of red berry fruit. The finish was crisp and fruity. Shavkapito 2011 was a ruby wine aged in Caucasian oak. The taste offered notes of cherry and spice. We also tasted a 2010 tank sample of Saperavi. The color was a dark ruby. The aroma and taste were of cherry and dark fruits. The finish had bold, chewy tannins and was fruity yielding to spices.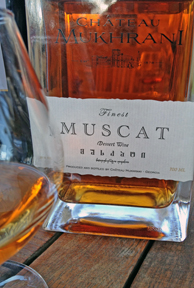 Dessert Wine
Finest Muscat Dessert Wine had 18 percent alcohol. Muscat wine is fortified with Chacha. The wine was a burnt orange color. The aroma reminded one of orange blossoms and marmalade. The taste was smooth with orange nuances. The finish had little heat but a bit of sweetness and orange hints. The story for this wine is that this wine cannot be sold in Russia. When asked "Why not?" a Russian official said, "This wine would cause us to lose our wives."
Chacha
In Georgia, Chacha is like grappa. Château Mukhrani's Chacha was a clear water color with 43 percent alcohol. The taste was smooth with some heat on the finish.
During our visit, Jacques noted, "Wine has a great tradition of making people happy." Château Mukhrani is a blend of the past with the potential for the future. Wine enthusiasts can learn about Georgian history and taste wines made from indigenous grapes as well as wines made with international grapes.
Château Mukhrani
Mukhrani, 3309, Kartli, Georgia