Danieli Winery
by
Kathy Sullivan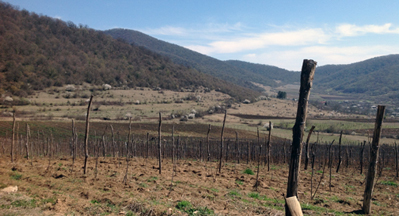 Summary: We enjoyed meeting Olaf Malver and Eka Tchvritidze, an enthusiastic couple who are particularly interested in growing and making wine with the Kisi grape variety. Their vineyards are in a beautiful area of Kakheti.
We met Olaf and Eka an enthusiastic couple who are passionate about grape growing, winemaking and the Georgian grape variety Kisi. Olaf is originally from Denmark. He moved to California where he spent years studying and learning about viticulture and winemaking. Eka's parents live in a nearby Georgian village. Eka grew up in Virginia and returned to Georgia for her university degree. She is also the owner and force behind Wild Georgia a Georgian adventure tour company.
Eka's father is a priest at Alaverdi Monastery. For Eka and Olaf to be married in the Georgian Orthodox Church, Olaf needed to be baptized in the Church. To do so, Olaf needed a baptismal name and chose Danieli because it was a saint's name, a great name that sounds Italian and also translates to "the Chap from Denmark".
Vineyards
Together, Olaf and Eka discovered a parcel of land in an area where Kisi grows very well. They are located in the village of Argoichki which means "no hail." The name of the village helps to define the terroir. The soil has some clay, sand and humus. This area is small and surrounded by mountains that keep hailstorms from penetrating. Currently they have planted ten hectares of Kisi grapes. They are planning to expand and plant Saperavi, Rkatsiteli and Kakhuri Mtsvane. They would like to increase their vineyard size to 30 hectares. To do so they want to find the right terroir and match a Georgian grape with that terroir. Kisi grows very well in Argoichki on the slope and is located in the newest approved Georgian appellation due to its climate, soil and location.
Currently Danieli wines are made at another winery using Danieli grapes. Eventually Olaf and Eka plan to build their own winery. One of the their beliefs is to make the best wine using the best techniques for a particular varietal grape. This means they will select stainless steel, oak barrels or qvevri based on what is best for the grape.
Our vineyard walk included a short hike to the top of the slope of vines. The views were spectacular. Although the vines were dormant, we were able to view the architecture of the vines. After our walk through the vineyards, we returned to their large home in the village. We were treated to an assortment of Georgian foods and Danieli wines. As we drove through the village many of the villagers waved a friendly hello to Olaf and Eka.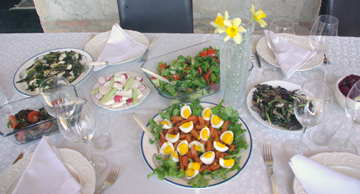 Wines
We enjoyed the 2013 unfiltered Kisi, made in stainless steel. The straw colored wine offered tropical fruits and lime notes. The finish was crisp. The Mukuzani 2013 was produced with 100 percent Saperavi. The color was a dark purple to black with a ruby rim. The aroma was of black fruits. The taste had notes of plums and blackberries. Mild tannins was accompanied by a crisp, fruity finish. The wine had 13.6 percent alcohol.
Eka and Olaf smiled in agreement as they noted, they were "Liquidizing our assets." We enjoyed meeting Eka and Olaf, seeing their vineyards, tasting wines and enjoying a wonderful conversation with this enthusiastic couple.
Danieli Winery
Argoichki, Kakheti, Georgia
Article Written April 2014