Nika's Wine
by
Kathy & Terry Sullivan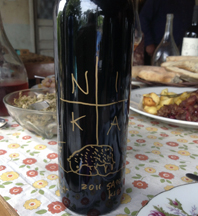 Summary: Nika's Wine is a small family winery where Nika, an artist and sculptor, produces qvevri wines. Appointments are necessary to visit Nika's Wine located at his home in Anaga, Kekheti.
Nika's Wine is a small, family winery focusing on producing qvevri wines. Nika Bakhia's background includes teaching in Germany, sculpture, design and architecture. Prior to becoming a winemaker Nika had been a wine consumer. Nika sees the artistry in winemaking and has been making qvevri wines for eight years. He creates his own bottle labels. For Nika, winemaking is art. He makes wine differently each year in part because the grapes differ each year.
Nika produces wines using qvevri and natural winemaking techniques – not to be confused with organic winemaking. It was noted that organic wines are allowed to use certain additives and therefore are not considered natural.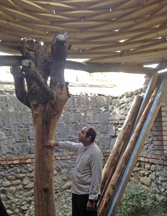 Participating with other qvevri winemakers, Nika created the Association Qvevri Wine, a group that adheres to a code of conduct regarding the growing of grapes and making wine in a qvevri. The association began with five members and now has fifteen members. The group believes in making a natural wine in a qvevri. A natural wine does not have added to it any commercial yeasts, acids, enzymes, tannins, extracts, fining agents, sugar, reverse osmosis, thermal processing or use of sulfur during the fermentation or maceration of the wine. A qvevri club international has also been started.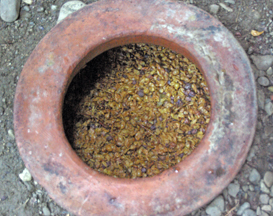 Nika has several qvevri set into the ground under a newly constructed Georgian-style roof. The area is attached to the aged farmhouse. As his proud parents carefully watched, Nika described his background and his enthusiasm for producing qvevri wines. Nika seemed like a proud parent of his wine. Rather than making wine, he raises wine. One qvevri had Rkatsiteli grapes fermenting in it.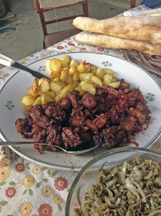 We sat at a table with a bowl of Rkatsiteli grapes in the center. Nika's mother began serving several Georgian specialty dishes. Not only was the food tasty but colorful and it was very enjoyable with Nika's qvevri wines. Nika started the tasting by decanting an amber colored wine.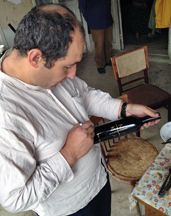 While talking with Nika and tasting his wines, he brought out a wine bottle without a label. Nika quickly sketched a wine label on the bottle. Nika is a talented artist and winemaker.
White Wines
Tarieluna 2011 was named after Nika's parents, Tarie and Luna. This wine was produced with Rkatsiteli. The wine was an amber color. The aroma reminded one of dried fruit. The taste offered notes of citrus and dried yellow fruits. The finish with mild tannins had fruit nuances. Dato Noah 2011 was one hundred percent Rkatsiteli. The wine spent one month with skin contact. The wine was a dark amber color with orange hues. The aroma was floral and the taste had floral and dried fruit notes. The finish with tannins had floral and some fruit hints.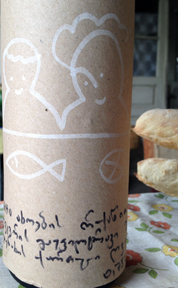 Red Wines
Supra 2011 was made with the Saperavi grape variety. The dark ruby wine offered dark fruit notes. The taste had notes of blackberries and black cherries. Tannins were on the finish. Amor 2011 was also made with Saperavi grapes. The dark ruby wine had aroma notes of floral and cassis. The taste reminded one of blackberry and cassis. The fruity finish had bold chewy tannins.
Chacha
The Chacha 2011 spent 10 months in oak. The wine was made with Saperavi chacha (pomace.) The Chacha was a light yellow color with vanilla and caramel hints. The Chacha heat was very mild.

Nika noted, "People are coming from all over the world. This is a meeting place."

Exports
Nika's Wines are exported to Japan, Poland and Australia.
When planning to visit Nika's Wine to discover Georgian natural wines, contact Nika in advance.
Nika's Wine
Anaga, Kekheti, Georgia