Shumi Winery
by
Kathy and Terry Sullivan

Summary: Shumi Winery with an extensive grapevine vineyard library offers tourists several possible activities to take part in when visiting. Be sure to contact the winery in advance. The winery also has a small but must see museum with clay wine vessels that date back to the third millennium BC.
Shumi Winery was first started with a focus on growing grapes. After establishing vineyards, the Shumi winery was founded in 2001. It was also one of the first Georgian wineries to invite tourists and travelers to visit.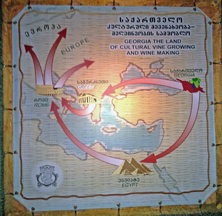 Preserving Georgian Wine History
In addition to maintaining vineyards and producing wines, Shumi has a small museum with numerous artifacts including wine vessels from the 3rd millennium BC. Near the entrance of the museum there is a display that shows the progression of grapes to Europe and beyond. After grapes had a foothold in Georgia, viticulture and winemaking were taken to Greece in the west and as far south as Egypt. From both Greece and Egypt, viticulture and winemaking made its way to Rome. From Rome it spread to Western Europe. The Shumi wine museum has the oldest qvevri discovered in Georgia dating back to 1,000 BC.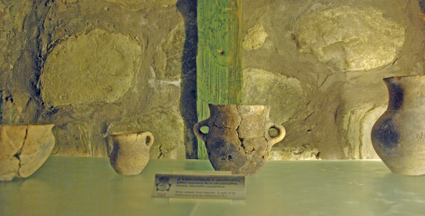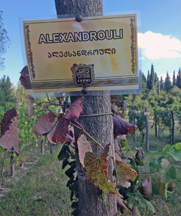 A vineyard library was established at Shumi. The vineyard currently has 300 grape varieties found in Georgia. Each variety is well marked with signs in the beautiful Georgian script and using the traditional alphabet. September is a great time to visit the grapevine library. The vines have grapes hanging on them and you can sample many of the grapes.
In addition to producing quality wines, Shumi is also focused on preserving and acknowledging the past. The name Shumi in ancient Georgian was for authentic wines. The Shumi company logo is a griffin. According to the legend, the first bunch of grapes was brought by a griffin (Phaskunji) and from this cluster of grapes grapevines began to be planted.
Currently Shumi has 60 hectares (148 acres) of vineyards and bottles 500,000 bottles of wine. The winery has vineyards in several areas of Georgia and is able to produce wines of many Georgian styles. Shumi also buys grapes from local growers. Wines are exported to 16 countries although Ukraine is the largest importer.
Wine Tourism
Shumi offers several activities for tourists. Depending on the size of the group people can choose to participate in a Supra, make Chacha, or make bread. A one day advanced notice is required for these special activities.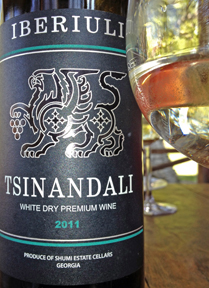 Wines
Our wine tasting was held outside where we enjoyed tasting Shumi wines with Georgian cheese and delicious fresh, ripe watermelon and melon.
The winery has a Shumi and an Iberiuli line of wines. Tsinadali 2011 Appellation Controlled was a blend of Rkatiseli and Mtsvane. This light yellow wine offered tropical fruits and citrus. Tsinadali 2011 Appellation Controlled, an Iberiuli brand, was produced with selected grapes from one vineyard. The label had a phoenix on it. The grapes in this blend were Rkatiseli and Mtsvane. The wine was a light yellow. The aroma and taste were of tropical fruit. The crisp finish had tropical fruits yielding to citrus.
Saperavi 2011 was a dark purple to black color. The wine offered notes of cherry. The finish had bold and chewy tannins with fruit yielding to leather. Mukuzani Appellation Controlled 2011 had a dark purple to black color. This 100% Saperavi's aroma reminded one of dark fruits while the taste had notes of pepper, cloves and dark fruits. The finish had bold, chewy tannins with fruit and spice. Kindynarauli Appellation Controlled was a dark purple with red hints. This Saperavi wine had eight percent residual sugar. The aroma was of dark fruits and the taste was sweet with dark fruit notes. The finish was fruity with tannins.
Shumi Winery also produces brandy and grappa-style fortified wines. The brandy is known as lori and the grappa-style wines are called Chacha.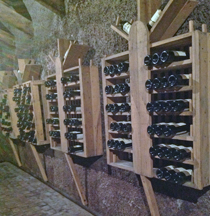 Shumi's Wine Library
The wines Shumi has produced over the years are stored in a separate room where unique wood shelving units store some of each year's production.
When visiting Shumi be sure to look for the colorful but simple map that depicts "Georgia the Land of Cultural Vine Growing and Wine Making."
Shumi Winery
2217, vil. Tsinandali, Kakheti, Georgia