Kindzmarauli Marani
by
Kathy Sullivan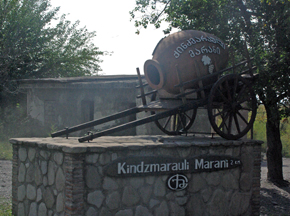 Summary: Kindzmarauli Marani has a large vineyard library with more than 400 grape varieties that grow in Georgia. Located in Kvareli, Georgia the winery currently produces two million bottles of wine.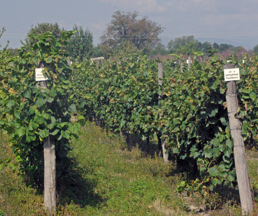 Kindzmarauli Marani has an established and well-maintained vineyard library featuring 420 of the more than 500 grape varieties that can be found in Georgia. They hope to increase the number of different varieties to over 500. With the grapes harvested from some of the varieties, they make experimental wine. So far some have shown promise for producing quality wines.
Kindzmarauli Marani Vineyards
Kindzmarauli Marani has 500 hectares (1,236 acres) of grapevines that include Saperavi, Kisi, Rkatsiteli and Khikhvi. In the future, they will add another vineyard. In 2013 they expect to harvest 2,500 tons of grapes.

Wines
Currently the winery produces European-style wines in both stainless steel tanks and oak barrels. Kindzmarauli plans to produce qvevri wines using 30 to 50 tons of grapes. The winery produces 2,000,000 bottles of European-style wine. Wines are exported to the United States, China, Turkey, Ukraine and Russia. Dry, white wines are sold in Georgia.
Kindzmarauli Marani also produces Chacha (brandy) from the chacha (pomace) after wines are fermented. Half of the chacha is used for making Chacha and the other half is used as fertilizer.
Quality of Wines
During the time period when the Soviets were in control, few varieties were used and winemaking was based on quantity. Since becoming independent, Kindzmarauli Marani has pursued producing quality wines. Today the winery has 24 wines in its portfolio. We had the opportunity to taste wines from tanks and bottle tastings.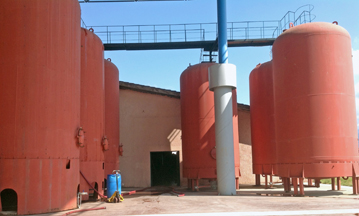 Tank Tastings
Rkatiseli 2012 was a straw color with floral and citrus notes. The wine was refreshing. Mtsvane 2012 was a light yellow with tropical and citrus nuances. The taste was fruity and floral on the aftertaste. Khikvhi 2012 was a yellow color. This wine was made by maceration without the stems. The aroma was of pear and floral notes. The crisp taste had pear and citrus notes. Muscat Rosé 2010 was a light yellow. The wine offered orange blossom notes. The wine was crisp with an orange aftertaste. Muscat Semi-sweet 2011 was a light orange color. It offered orange notes and was sweet with a crisp finish.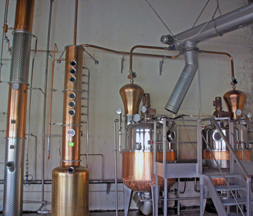 Distillery
In the separate distillery building, half chacha and half wine is used to produce Chacha. Kindzmarauli distills to 68 percent alcohol and then adds water to bring it to 45 percent alcohol for the Chacha. Each year Kindzmarauli Marani produces 200,000 bottles of Chacha.
Formal Tasting
In an elegant tasting room, we tasted several bottled wines. Kisi 2010 was a yellow color with notes of citrus and tropical fruits. The finish was crisp and fruity with a long aftertaste. Kakhetian Royal 2011 was aged in a tank on chacha for six months. This wine was a blend of Rkatiseli, Mtsvane and Khikhvi. The dark gold wine had dried fruits and floral notes on the aroma. The taste was smooth with floral nuances and a touch of honey. The finish had tannins with floral hints.
Saperavi 2010 was a dark ruby color. The aroma was of dark fruits. The taste reminded one of black raspberries and cherries. Bold tannins were on the finish with leather and fruit nuances. Kakhetian Royal 2007 was produced with Saperavi and Budeshuri. The wine was a dark color with an aroma of dark fruits. The taste was of dark fruits including blackberries and cassis. Bold tannins were on the finish. Saperavi Barrel Select 2007 spent two years in French oak. This dark ruby wine offered notes of dark fruits. The taste reminded one of blackberries and cassis. The fruity finish also had a slight spice influence and bold tannins. Saperavi 2006 was aged in new French oak for three years. The color was dark purple to black and offered an aroma of dark fruits. The taste had cassis, black cherry and chocolate nuances. The finish had very bold tannins, licorice hints and a long aftertaste.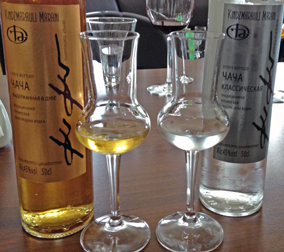 Chacha
Kindzmarauli Marani produces two Chachas. The first Chacha was clear and was a blend of Saperavi chacha (pomace) and a white grape. The Chacha had notes of dried fruit and alcohol. The second Chacha was a dark yellow and used the same chacha (pomace) mix as the clear Chacha. However, it was aged in an oak barrel for one year. The result was a Chacha with notes of alcohol, dried fruit and caramel.
Future plans for Kindzmarauli Marani include adding a hotel on the property. Enjoy a visit to this large production winery in the Kakheti region. While visiting the winery stroll through the library vineyard and taste several wines.
Kindzmarauli Marani
Kvareli, Kakheti, Georgia