Azarpesha Restaurant
by
Terry Sullivan

Summary: Luarsab Togonidze is the owner of a small restaurant and wine tasting bar in Tbilisi, Georgia (Sakartvelo.) He has many talents in the world of wine and music and enjoys philosophizing about relgion, wine and family.
Our first evening in Georgia, we met Luarsab Togonidze at his Wine bar, Azarpesha, in Tbilisi which is also a boutique restaurant. The dining area, although small, can hold Supras. For the Supra we attended, Luarsab was the tamada and we learned he also enjoys polyphonic singing.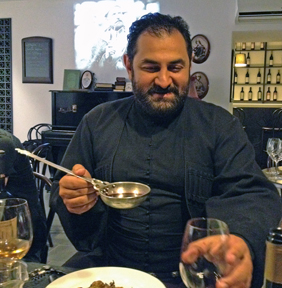 We were at Azarpesha for a Supra, a celebratory meal with wine, food, song and toasts. Prior to the other gusts arriving, Luarsab spoke with us. He wanted to get to know us and he described the Supra and his role as tamada. Guests at this Supra included Kathy and I, several people from the National Wine Agency including Irakli Cholobargia, Tamta Kvelaidze (our host from the National Wine Agency,) two journalists from Poland, two professional singers, friends of Luarsab and our drivers.
We noticed the collection of wine drinking vessels, books and many photographs. The ceramic drinking vessels and decanters were displayed on glass shelves in an enclosed glass/wood case. Soft white light illuminated the objects. Another case held drinking horns and vessels made from metals. Several books were also on display. In another room off the main room there is a wine bar. Bar stools with backs provide seating while at the bar.
Our group was asked to sit at a long table. Wine was poured and Luarsab started the first of many toasts throughout the evening. After the toast, we drank wine and ate food while listening to Luarsab and his two friends sing. Even though we did not understand the words of the song, the music was so beautiful that it caught our attention and touched our hearts.
Throughout the evening toasts were made to God, peace, family (both those who have passed and those alive), children, and the future. We felt at home and members of a family. Laursab is both poetic and philosophical when he makes a toast. In his toast to peace he mentioned that, "Without peace wine has no aroma or taste and flowers have no color."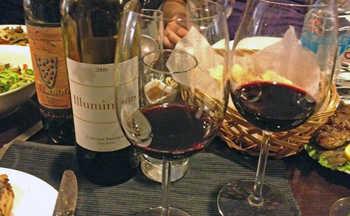 I had brought a bottle of the 2009 Illuminatus, a Paso Robles AVA, California Cabernet Sauvignon that Kathy and I made at Vint Hill Craft Winery in Virginia. It felt like the right moment, so I asked Tamta if it would be acceptable to offer the bottle. She said it would and we offered the bottle to our tamada. Luarsab was very grateful that we brought a wine to share from our country and that we made. He also enjoyed the wine as did the others at the table.
After a toast to love, Luarsab drank from an azarpesha, a small metal bowl with a handle. After drinking the wine, Luarsab refilled the bowl and passed the azarpesha to me. I was asked to say a few words about the theme of this toast and drink the wine. Kathy drank next and also offered some words. Then the guests from Poland. Finally several guests from the National Wine Agency also offered a toast and drank from the azarpesha.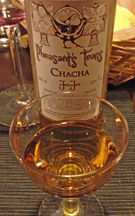 After several toasts, and foods, Chacha was served. Chacha is a brandy made by taking the pomace (chacha) after fermentation of the wine and distilling the chacha. The distilled spirit is usually in the 45% to 50% alcohol range. Not everyone in the group drank the chacha; however, most of the men did.
Luarsab Togonidze is a man of many talents. He performs polyphonic singing and presides as a tamada at Supras. You will feel welcomed at his restaurant/wine bar where you can drink traditional Georgian wines and taste Georgian and European cuisine.
Azarpesha
2 Ingorokva St.
Tbilisi, Georgia