Aleksandreuli Ltd.
by
Kathy Sullivan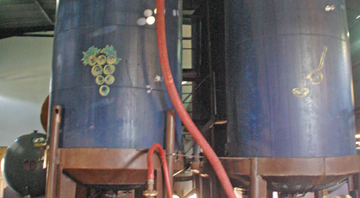 Summary: Aleksandreuli Ltd is located in Western Georgia in Bugeuli,
Racha. The winery focuses on the Aleksandreuli grape variety but also has several other varieties. The Khvanchkara wine by Aleksandreuli offers an interesting history. Look for the specially shaped Khvanchkara wine bottle.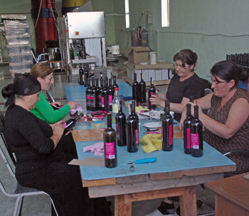 The Aleksandreuli winery is housed in a large modern-style yellow colored building built in 2003 in Western Georgia. The winery has its own vineyards. In addition to the winery in Western Georgia, Aleksandreuli also has a winery in Kakheti. Nearby the Western Georgian winery another building is the location of the labeling and packaging of wines. At the time of our visit several women were working at a long table labeling bottles by hand.
The inside of the winery building is filled with numerous tanks. Some of the tanks are adorned with an artistic grape cluster.
Vineyards
The grapevines in this area of Georgia, with high humidity, are subject to mildew. Vineyards guard against the mildew by using the traditional copper sulfate. The vineyards with 60 hectares (148 acres) are home to Aleksandreuli, and Mujuretuli. These grapes make up an Appellation Controlled wine. It was discovered that vineyards had existed in this area long ago.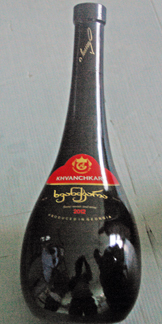 Aleksandreuli Wines
The appellation-controlled wines are semisweet. Aleksandreuli also produces dry wines. Currently the winery uses 150,000 tons of grapes.
The grapes have a high sugar content with typically 25 percent Brix. The harvested grapes are destemmed and the juice is placed in tanks with 100 percent chacha (pomace). After the grapes ferment for ten to twelve days the fermentation is stopped with cold temperatures in order to cold-stabilize it. This is followed by racking the wine to other tanks without the chacha. The wines are racked three different times.
In addition to the sweet wines, Aleksandreuli produces dry wines. Grape varietals used by the Aleksandreuli winemaker include: Khvanchkara, Tetra, Barakoni, Alexandreuli, Kindzmarauli, Tsinandali, Mukuzani, and Saperavi.

Khvanchkara: Stalin's Favorite Wine
It is said that Khvanchkara was Stalin's favorite wine and his first wife liked it also. His wife was from Georgia's Racha region also the location of the winery.
Khvanchkara Appellation Controlled was a blend of Aleksandreuli and Mujuretuli. The color was a dark ruby. The wine offered notes of dark berry fruit and with 4.5 percent residual sugar it was somewhat sweet. The wine was sweet, crisp and fruity but dried on the finish.
Khvanchkara has a long history. The wine was first produced in the 1870s by Prince Kipiani. In 1907 the wine received a gold medal at a Belgium exhibition. The wine was enjoyed by Prime Minister Winston Churchill, U.S. President Franklin D. Roosevelt and Soviet Premier Joseph Stalin at the Yalta Conference in 1945.
Today the Khvanchkara wine is bottled in a beautiful and unique glass bottle. The bottle would look elegant on any wine shelf.
Aleksandreuli produce 150,000 bottles of wine. Wine is exported to Ukraine and Poland.
Aleksandreuli

Bugeuli
0400
Racha, Georgia

+995 32 220 73 24