Our driver was laughing at us. How could we be excited about seeing a hole in the ground? We weren't the only ones that wanted to see a hole the would soon hold several qvevri. There were two agriculture students, one from Austria and the other from Ukraine. They were interns at Our Wine and learning a lot about vineyards and winemaking.  They were as excited as we were. Others couldn't believe that we were excited to see a hole dug out in the ground.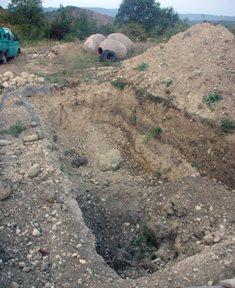 But that is not what we really saw. I didn't see it for what it was. I saw it and dreamed of what it would become. I saw several qvevri, made from earth and buried in the earth. The qvevri held wine. Above the hole, I saw people from all over the world tasting wines with smiles on their faces. The qvevri made wine was discovered by wine travelers that just expanded their personal wine journey by multiples.
It's not just a hole, it symbolizes a way of life that is 8,000 years old. Is is symbolic of a winemaking technique that is the most natural way of making wine on earth. It represents the only way a grape can truly express itself. And people are interested.
A hole in the ground is not just for wine geeks. Dare to learn about natural winemaking in qvevri. Visit Georgia, Sakartvelo.
Cheers,
Terry