Colorado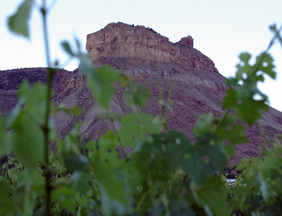 The Rocky Mountains and high elevations seem to be synonymous with Colorado. How then has Colorado become a winemaking region with 64 licensed wineries and over 800 acres of vineyards? Heights ranging from the 4000's to 12,000's should present challenges to vineyard owners. However, the state offers a unique terroir, with hot sunny days, cool nights with low humidity. Those hot days allow grapes to ripen while cool nights help the grapes retain their acidity. The low humidity lessens the risks due to pests and disease, which grape growers in high humidity states are challenged to control. The result is excellent fruit for winemaking. Colorado's grape growers, in Grand Valley, have little difficulty getting the brix levels the winemakers want. Many Colorado wines are 15% alcohol or over. Challenges include late spring frosts, and winter damage. Some areas are more susceptible than others.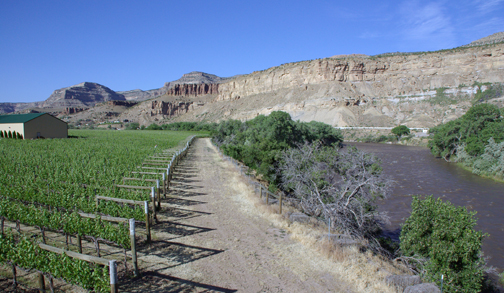 There are two designated appellations in Colorado, the Grand Valley AVA and the West Elks AVA. Three-fourths of Colorado's wineries lie in the Grand Valley AVA. The valley is west of Grand Junction and runs east to west. Over the millennia, rivers that left behind deep canyons and sharp escarpments carved the valley out. The valley has superior air drainage which lessons frost damage even though the elevation is 4700 feet. Vineyards in the West Elks AVA are the highest in North America some at 6400 feet. Although few wineries lie in this AVA, they are producing some fine Riesling and Gewürztraminer and experimenting with Pinot Noir.
The three most widely planted varietal grapes are Merlot, Cabernet Sauvignon and Chardonnay. About 800 tons of these grapes are harvested. An additional 350 tons of Syrah, Riesling and Cabernet Franc are harvested. There are smaller plantings of Pinot Noir, Gewürztraminer, Viognier and Sauvignon Blanc.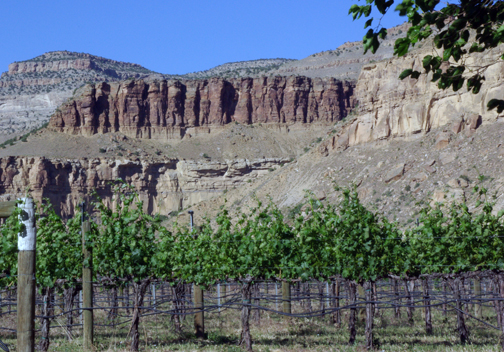 Vineyards often offer breathtaking views of mountains, sunrises and sunsets. The green vineyards are in sharp contrast with the brown mountains and deep blue skies. Often views of the Bookcliff Mountain Range, Colorado National Monument and the Grand Mesa paint the background of vineyards.
Vineyards were first planted in Colorado in the late 1800's. The 1899 census reported a grape harvest of 586,300 pounds and a production of 1,744 gallons of wine. However these early successes were short lived. The vineyards were uprooted and replaced with fruit trees as a result of Prohibition. Although the 18th Amendment was repealed in 1933, it wasn't until the late 1960's and early 1970's that brought new plantings of vineyards and the beginning of the modern day wine industry. These new plantings included vinifera.
Recently there has been a surge of vineyard plantings. In 1985 there were between 15 and 20 acres of vineyards. By 2008 there are over 800 acres of vineyards producing grapes and several hundred additional acres planted that will produce in the coming years.
---
Visit this Colorado lodging facility that partners with Wine Trail Traveler.
| | | | |
| --- | --- | --- | --- |
| | | | |
| | Spero Winery | Wine Country Inn | |
| | | | |