Cottonwood Cellars Tasting Room at Cowbells Western Interiors
by
Kathy Sullivan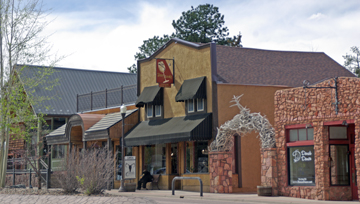 Summary: The tasting counter in Cowbells Western Interiors offers browsers and customers the opportunity to taste several Cottonwood Cellars wines. This unusual combination of retail shop with wine tasting may be the wave of the future.
We met the owner of Cowbells Western Interiors, Debra Nichols, who has a love of all things western and wines. She is delightfully friendly and enthusiastic. Debra met Diane of Cottonwood Cellars and together the two collaborated on offering wine tastings at Cowbells Western Interiors in Woodland Park, Colorado.
Cowbells Western Interiors offers an eclectic collection of western items with most from local Colorado artisans. Debra noted that she does have a few antiques available. She has discovered that with the numerous types of styles in home decorating, items available in the shop work well into the decorating schemes.
Most unusual is the unique tasting counter and chairs. Actually the chairs are authentic saddles. For those not comfortable with "riding" a saddle while tasting wines, chairs are offered.
Woodland Park is located south of Denver and north of Colorado Springs where travelers can view mountains, stop and shop. Woodland Park is a seasonal destination with most traffic coming during the summer months.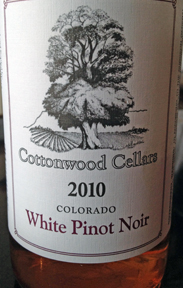 Cottonwood Cellars Wines at Cowbells
At the tasting counter, visitors will discover five saddles to sit on while tasting wines. "Saddle up to the bar," for a delightful wine tasting experience.
White Pinot Noir 2010 was a light reddish orange. The aroma was of red berry fruit. Specific fruits on the taste included raspberries and strawberries. The finish was crisp and fruity. Cabernet Sauvignon 2005 had the Olathe Winery label. The dark ruby wine offered notes of tobacco and dark fruit. Notes on the finish included tannins with spice yielding to tobacco. Classic Blend 2005 was a blend of Cabernet Sauvignon, Cabernet Franc and Merlot. This dark ruby wine had spices with a touch of tobacco.
Gewürztraminer 2009 in a blue wine bottle was a pale yellow. This very pleasant Gewürztraminer could easily be enjoyed on a warm day with hors d'oeveres or alone. Colorado White Riesling 2009 offered light fruit notes particularly citrus including grapefruit. Suggested pairings included Asian or spicy food.
Events
Events include the third Friday Art Walk held throughout the year. Vino and Notes is a Wine, Jazz and Food Festival planned for August 4th. Twenty or more Colorado wineries will be attending the festival.
Outside the back of the store there is a deck area where people can relax and enjoy a Cottonwood Cellars wine. Enjoy a visit to Cowbells Western Interiors where you can shop and taste Cottonwood Cellars wine.
Cottonwood Cellars Tasting Room at Cowbells Western Interiors
214 W Midland Ave
Woodland Park, Colorado
GSP: N38º 59.680' W105º 03.269'
---
Visit this Colorado lodging facility that partners with Wine Trail Traveler.
| | | | |
| --- | --- | --- | --- |
| | | | |
| | Spero Winery | Wine Country Inn | |
| | | | |