Confre Cellars, Inc.
by
Kathy Sullivan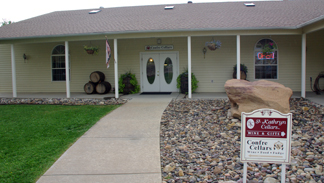 Summary: Confre Cellars offers visitors a variety of fruit wines and gourmet treats to browse. Most notable in the tasting room is the area set aside for handmade fudge.
Confre Cellars is located next St. Kathryn Cellars. Although the wines are produced at the Meadery of the Rockies, the wine tasting rooms offer different experiences. Confre is devoted to the tasting of fruit wines.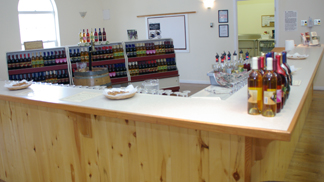 Fruit Wines
Mango had a yellow color with a tropical fruit aroma. The taste was smooth. The finish was crisp with a long tropical fruit aftertaste.
Cherry with a red orange color had a cherry aroma. The taste was smooth with cherry nuances. While the finish was tart, there was also slight sweetness to the finish.
Elderberry offered an aroma of cocoa and earthiness. The taste was elderberry with a sweet finish. According to a staff member, Elderberry wine is "loaded with elderberry juice and antioxidants."
The aroma of Pomegranate was of cherries. With a fruity aroma, the taste was silky with a cherry taste. The finish went from sweet to crisp. This wine also had antioxidants.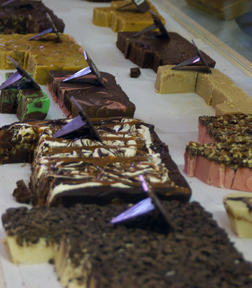 A special at Confre Cellars is the large fudge section. Here you will discover an assortment of handmade fudge of all kinds. Visitors can taste some of the different handmade fudges. There are many different flavors to taste such as Vanilla Chocolate chip, Tiger Butter a chocolate and peanut better swirl in vanilla, Mint Swirl and Strawberry Chocolate Swirl. A seasonal special fudge was a pumpkin fudge. If you have difficulty deciding which one to purchase, consider purchasing three or four types of fudge when you purchase a pound.
The Confre Cellars tasting room emphasizes fruit wines, gourmet foods and wine accessories. Take your time tasting wines and browsing the other available products. When you visit the Confre Cellars tasting room, be sure to save time to visit St. Kathryn's tasting room located just a few feet away.
Confre Cellars
785 Elberta Avenue
Palisade, Colorado 81526
GPS: N 39° 06.989' W 108° 21.583'
---
Visit this Colorado lodging facility that partners with Wine Trail Traveler.
| | | | |
| --- | --- | --- | --- |
| | | | |
| | Spero Winery | Wine Country Inn | |
| | | | |