Meadery of the Rockies
by
Kathy and Terry Sullivan
Summary: Winemaker Glenn Foster and his wife, Natalie, own Meadery of the Rockies. The Fosters acquired Meadery of the Rockies, St. Kathryn Cellars and Confre Cellars earlier this year.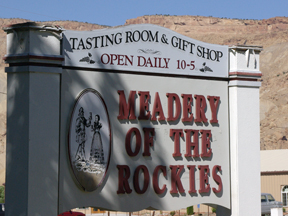 We met Glenn Foster who described his journey into winemaking and eventually owning his own wineries. Glenn's father founded Ravenswood Winery in 1976 and as a child, Glenn worked in the winery as a "glass dropper." His job was to place the bottles on the bottling line. After college, Ravenswood offered Glenn a job where he learned the art of winemaking from the ground up beginning as a "cellar rat."
In 1995, Glenn and his wife discovered the Grand Valley area and decided to settle in the center of Colorado's vineyard country. He worked at three well-known wineries in the area, Grand River Vineyards, Canyon Wind Cellars and Two Rivers Winery before deciding to strike out on his own. The Fosters own Colorado Wine Room, Meadery of the Rockies, St. Kathryn Cellars and Confre Cellars. He established his brand as Talon at Colorado Wine Room. The image and brand of Talon is a reminder of his childhood dreams of becoming a falconer. Today Glenn and his father have a friendly rivalry between the types of wines they produce. Glenn is considering t-shirts made that say, "Friends let friends drink sweet wine." Although Glenn has a half-acre of grapevines, he prefers putting his energy and commitment into producing wine. Currently he produces 6000 cases.
Meadery of the Rockies is the location of the winery for all four tasting rooms. Each tasting room focuses on a different type of wine and at Meadery of the Rockies, as the name suggests, the focus is mead wine.
A striking color of this winery's entrance is the use of a bit of red and yellow on a white background. The yellow reminded us of honeybees. Yellow wicker chairs with red cushions on the covered porch provide a comfortable place to enjoy a glass of mead. Sitting on the porch provides views of the Bookcliffs in the front. To the side is a small vineyard with the Grand Mesa in the distance.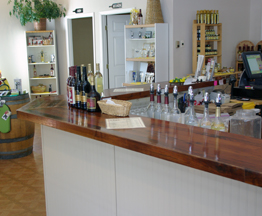 Inside, the tasting room is large and bright. An assortment of gifts items available includes stoneware, books, salsa, preserves and many wine related items. The U-shaped tasting counter provides space for several visitors to taste the mead wines. Behind the tasting counter a large window provides visitors a look into the winery. Tanks and bottling lines fill the area. Another room is attached to the winery for storage.
Meads
King Arthur offered an aroma of wild flowers and blossoms. The taste was of orange blossoms and honeysuckle. The finish was dry.
Guinevere was medium-sweet that had a medium honey aroma with orange blossoms and honeysuckle. It had a honey taste with a crisp finish that was balanced.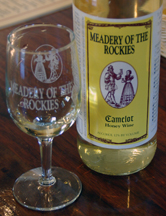 Camelot had a honeysuckle and caramel aroma with a smooth caramel taste. The aftertaste was long with caramel nuances.
Peaches 'n Honey was excellent with a sweet, light aroma and honey and peach taste. The peach lingered on the aftertaste. This wine had good balance.
Raspberries 'n Honey had a raspberry aroma and taste with a crisp and fruity finish.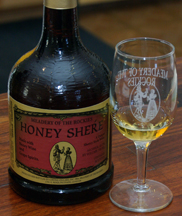 Honey Sheré with an 18.5 percent alcohol level offered a wild flower and honeysuckle aroma with a light, smooth honey taste. The finish was crisp with a honey and orange aftertaste.
Raspberry Chocolate Velvet had 18.5 percent alcohol. The aroma and taste was of raspberries and chocolate nuances. The wine was balanced.
Enjoy a visit to Meadery of the Rockies and discover some wonderful mead wines. These wines are well balanced and light. The honey taste does not overpower. These meads can be enjoyed by themselves or paired with a wide range of meals from turkey, pasta to spicy foods.

Meadery of the Rockies
3701 G Road Palisade
Colorado 81526
GPS: N 39° 06.351' W 108° 21.963'
---
Visit this Colorado lodging facility that partners with Wine Trail Traveler.
| | | | |
| --- | --- | --- | --- |
| | | | |
| | Spero Winery | Wine Country Inn | |
| | | | |