Varaison Vineyards & Winery
by
Kathy Sullivan
Summary: Owner and winemaker, Ron West, emphasizes quality wine, history and events at Varaison. Varaison includes a vineyard, winery, tasting room and entertainment center. Currently the winery produces Chardonnay, Merlot and a Sparkling Wine. By 2010 the wine list will include Nebbiolo.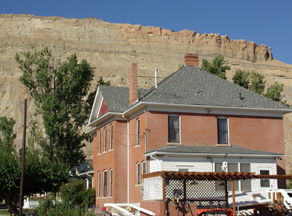 Before entering the winery and vineyard industry, Ron West, had worked in microbiology and chemical analysis. In addition, he spent years working with the EPA, the Environmental Protection Agency. Deciding to change his career, his background in chemical analysis has facilitated his endeavors in the field of wine production.
In 2001, Ron began growing grapes. Currently he has Chardonnay, Merlot and Orange Muscat. He likes using Chardonnay and Merlot because they are highly balanced and never too tart or too sweet. He does not use pesticides, herbicides or sulfur in the vineyards. Varaison has eight and a half acres at the winery and another nine acres of vineyards in the Grand Valley AVA. Ron does not use pesticides or herbicides in the vineyards.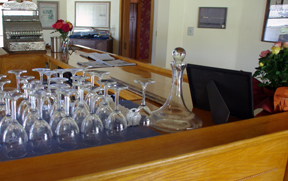 Ron decided to locate the tasting room in a century old brick home in Palisade. The house is the only brick Victorian house in Palisade, Colorado. The house is 95 percent original. Ron believes and practices "preserving the past for the future." Framed newspaper articles were discovered when the house was renovated. Some of these newspaper articles date back to 1904.
In addition to the onsite vineyards, winery, and tasting room, Varaison offers a lovely rose garden featuring David Austin Roses. With the advice of Dr. Michael Marriott of David Austin Roses, Ron landscaped the area with 1400 Old English Roses. These roses are the aromatic roses that many of us remember from our parents and grandparents' gardens. According to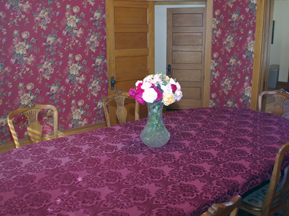 Varaison Vineyards & Winery press release, dated April 2008, this is "the largest single planting of David Austin Roses in North America." Be sure to watch for the annual Parade of Roses in Palisade each year. While tasting wines in the tasting room, look for bouquets of roses and take time to enjoy their aroma. Roses also adorn the table in a conference room.
Ron made several points as he talked about winemaking. "Wines are created rather than manufactured." The wines created at Varaison are single vineyard, single variety and estate reserve wines. Currently producing four wines, Ron will add more wines in the future.
We toured the event pavilion and winery, still under construction. The event pavilion can accommodate 250 people and host different types of events such as weddings, dinners and concerts. The winery is a 5800 square foot facility that was reconstructed on this site in 2006 from an historic lumber barn. In addition to stainless steel tanks the winery has a rotary fermenter. The rotary fermenter, used for red grapes, provides more contact with skins during fermentation and eliminates the need to punch down or pump over.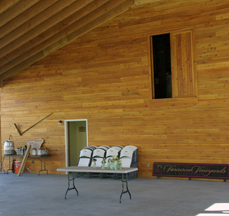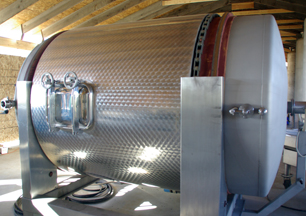 For Ron a wine tasting at Varaison is an event that lasts two to three hours, as he wants to teach visitors how to participate in a structured tasting. We tasted several wines with Ron.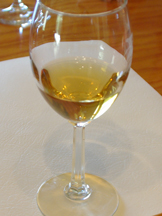 White Wine
The 2006 Estate Reserved Chardonnay was a warm, golden color. The nose was of butter, citrus and apples. The finish was apples, citrus, and vanilla. There were many layers during the aftertaste. Try pairing this wine with smoked salmon or pasta.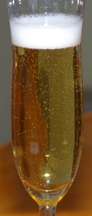 Sparkling Wine
Mimosa 2007, a blend of Orange Muscat and Chardonnay, was a golden color. It offered a nose and taste of oranges and apples. The finish was crisp and cleansing. There were nuances of oranges, apples, and caramel on the finish. There was a long fruit aftertaste.
Red Wine
Merlot 2006 was a black color with a red rim. The nose was oak. The taste was velvety with blackberries. There was a long fruit taste with light tannins showcasing different layers.
At the end of our tasting, we were treated to a special dessert created by Ron. Two different sorbets were made featuring peaches and apricots. Ron creates these flavorful desserts with Orange Muscat and Chardonnay.
Enjoy the historic house with original woodwork and lamps. Watch for events throughout the year.
Varision Vineyards
405 W. 1st St.
Palisade, Colorado 81526
GPS: N 39° 06.713' W 108° 21.336'
---
Visit this Colorado lodging facility that partners with Wine Trail Traveler.
| | | | |
| --- | --- | --- | --- |
| | | | |
| | Spero Winery | Wine Country Inn | |
| | | | |