Wine Country Inn
Palisade, Colorado
by
Kathy Sullivan
Summary: Opening in the summer of 2008, Wine Country Inn offers guests a delightful stay amid acres of vineyards in Palisade, Colorado. The charm and friendliness makes this an inn to return to repeatedly.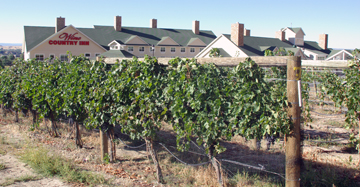 Wine Country Inn, a recently opened inn located in Palisade, Colorado is a delightful inn to stay at while visiting Colorado wine country. Wine Country Inn is conveniently located close to I-70. Even with its close proximity to an interstate road, the rooms at the inn are quiet and peaceful. Numerous wineries are a short distance from the inn, with three winery tasting rooms in walking distance. Several other wineries are a perfect distance for bikers.
While staying at Wine Country Inn, we took a detailed tour and saw the many amenities available to guests. After a day of visiting area wineries, it was wonderful to return to the inn for a quiet evening. Waking up the next morning, and having breakfast with a gourmet main dish and several accompaniments was great before leaving to visit more wine tasting rooms.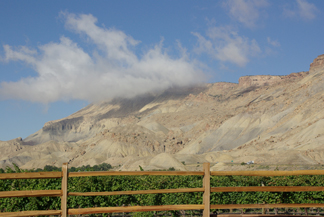 We enjoyed meeting Jean Tally, her husband, Richard and daughter, Anne. They are friendly and enthusiastic about the operation of the inn and its potential as a place to stay for people visiting this fertile grape and fruit growing area of Colorado. They have had experience owning hotels and for ten years had contemplated building an inn in Palisade, Colorado.
According to Jean, "Steve Smith, owner of Grande River Vineyards, had approached the Tallys a decade ago to see if they were interested in building a hotel near his winery. The Tallys believed the historic Victorian town of Palisade, with its significant agricultural role, deserved a first-class hotel whose architecture looked like it belonged there. In 2008, their dream came true with the August opening of the Wine Country Inn. The Tallys' attention to detail confirms that this project is indeed a labor of love."
The Wine Country Inn offers an atmosphere of old home welcoming. "This place feels like home." With 80 rooms available, the inn can function efficiently and as a hands on operation, providing an atmosphere of congeniality. It is restful and has a laid back atmosphere. As Jean Tally says, it is a "doable getaway." Whether you want to visit wineries or sit on the porch and rock, Wine Country Inn is inviting.
Description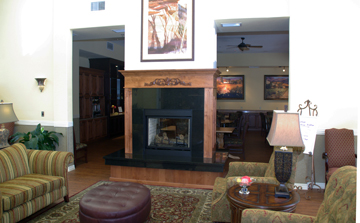 We experienced a delightful and detailed tour of Wine Country Inn with Michael who extolled the virtues of the inn. In a welcoming area, guests enjoy a fireplace open on two sides. The other side faces the dining area. Breakfast is available daily in the dining area. Jean Tally mentioned that the dining area is the most used area at the inn. In late afternoon, the inn holds wine tastings here. We discovered camaraderie here between guests. It wasn't long before we were talking about wineries in South Dakota and Nebraska. Wine is the commonality that brings people together.
The Wine Country Inn includes very comfortable rooms with high beds and delightful views. Some rooms have an outside door, allowing guests access to a porch with a small table and chairs. Guests will discover a good-sized laundry room with two washers and dryers. Sports enthusiasts may want to stay fit working out in the fitness room. A business center is also available for guests.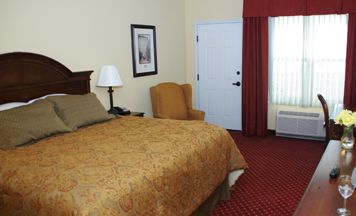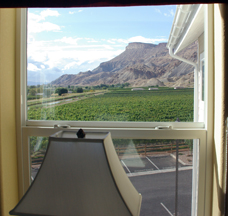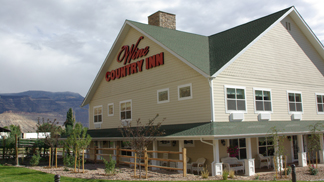 An outdoor swimming pool is available in season and a hot tub all year round. Decorative landscaping adds to the scenario.
Within a few feet of the 80-room facility, a smaller building, the Vintner's Guest House, with large suites is available for rental. This may be perfect for wedding parties or special family times.
A pavilion offers an opportunity for outdoor events. Visitors have a view of the majestic cliffs for which Colorado is known. A camera will provide many memories.
Property and Wine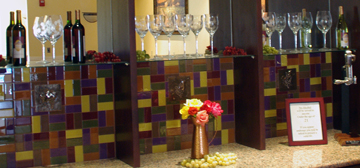 This 80-room inn is located on twenty and a half acres of land. With 16 acres of grapevines, the Wine Country Inn also has wine produced with their grapes. Grapes growing include Semillon, Cabernet Franc, Sauvignon Blanc and Merlot. Currently the Ten Acre Red and Meritage White are flying off the shelves. Ten Acre Red is a blend of Merlot and Cabernet Sauvignon. The aroma and taste were of blackberries. The finish was fruity with crisp, soft tannins. Meritage White is a blend of 63 percent Sauvignon Blanc and 37 percent Semillon. The color is a pale light yellow. The aroma offered light citrus and floral nuances, while the taste was crisp with fruit. The wine dried on the finish. Chardonnay was not oaky. The wine offered a light aroma and flavor. There was a long aftertaste. Visitors can taste these wines in the late afternoon and purchase them in the gift shop area.

Events
The Wine Country Inn has event rooms as well as a full catering kitchen on-site. Whether planning a wedding, private event, dinner or meeting, the inn provides a perfect atmosphere.
Beside private events and meetings, Jean is contemplating additional events including a Thanksgiving in the Vineyard event with a southern menu. Foods will include dressing, traditional green beans, sweet potatoes, cranberries, fruit salad and hot rolls. This event will be included with a package deal.
In December, there are plans for a Victorian High Tea. Jean is excited about this event. Ladies with their granddaughters will have a wonderful time anticipating, dressing up, and participating in this social event.
We believe you will enjoy your stay at Wine Country Inn and will want to return.
Wine Country Inn
777 Grande River Drive
Palisade, Colorado 81526
888.855.8330
GPS N39° 07.099' W 108° 21.899'
---
Visit this Colorado lodging facility that partners with Wine Trail Traveler.
| | | | |
| --- | --- | --- | --- |
| | | | |
| | Spero Winery | Wine Country Inn | |
| | | | |