Garfield Estates Vineyard & Winery
by
Kathy and Terry Sullivan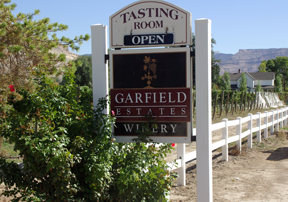 Summary: Located at an elevation of 4720 feet above sea level, Garfield Estates Vineyard & Winery has a picturesque view of Mount Garfield and the Bookcliffs behind them, highlighting the winery and vineyards. Garfield Estates is serious about producing quality wines.
In the spring of 2000, founder, Jeff Carr and former business partner, decided to plant 11 acres of vineyards on this small historic farm property. The winery is now operated by Jeff and his partners Brad Harmon and Mike McNamara. Varieties planted included Muscat Ottonel, Sémillon, Sauvignon Blanc, Viognier, Syrah, Merlot, Malbec and Cabernet Franc. Garfield Estates also sells grapes to wineries on the Western Slope and Front Range. On the day of our visit, workers were harvesting red wine grapes. A bin had been filled and waited for the destemming and crushing. Rows of grapes yet to be harvested were covered with netting to deter ravenousness birds. Mount Garfield offered the background for these vineyards that are quite picturesque.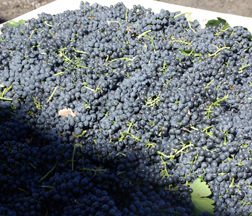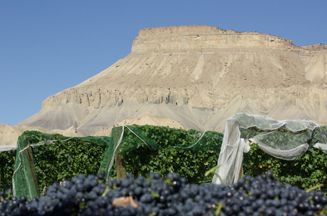 Located in the renovated historic barn of this long ago homestead property, the winery with tanks and barrels is located on the first floor. Visitors pass through this area on the way to the tasting room upstairs. Outside, oak barrel halves are filled with alyssum, zinnias and petunias. The weather vane atop the barn roof is used as the symbol on the labels. Currently, the winery produces 2500 to 3000 cases of wine.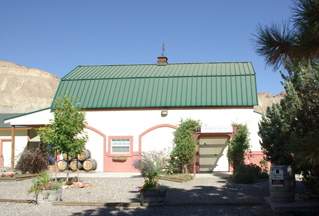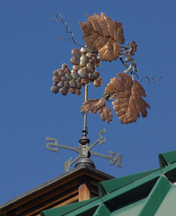 The tasting room is located on the second floor where visitors will discover a bright room with an L-shaped tasting counter and small seating area. The tasting room area was the hayloft when the barn was built in 1910. Two corner areas with fencing allow visitors to peer over the top of tall stainless steel tanks. Wine accessories as well as locally produced foods are available for purchase. A sign encourages visitors to try some of the locally made jams, jellies, preserves and salsa. A local store made a jelly from Garfield Estate Winery's Fumé Blanc/Vin Rosé.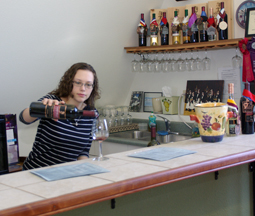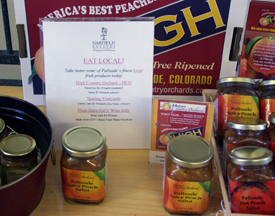 We had the opportunity to taste several wines with wine consultant Janessa Sullivan. Each wine is different and pairs well with different foods.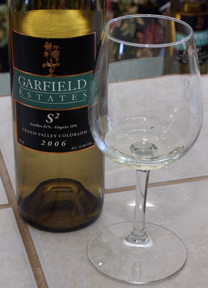 White Wine
S2 2006 was a blend of Sémillon and Viognier. Earlier releases of S2 were a blend of Sémillon and Sauvignon Blanc, thus S2. However Sauvignon Blanc was in short supply during the 2006 harvest and it was decided to use Viognier as a replacement for that year. The aroma reminds one of summertime fruit. The taste and finish are crisp and dry.
Viognier 2007 was 100 percent Viognier. The aroma was fresh fruit especially melon. The taste was smooth and the finish dry.
Fumé Blanc 2006 was aged in the barrel for 41/2 months. There was smoke on the aroma. The taste was smooth and the aftertaste lingered.
Rosé Wine
Vin Rosé 2007 was a blend of 65 percent Syrah and 35 percent Merlot resulting in a pink color. The aroma and taste were of strawberries. The finish was fruity and dry.
Red Wine
Cabernet Franc offered a pepper and spice aroma with a taste of red cherries and pepper. The finish was fruity yielding to pepper.
Syrah 2005 had a blackberry and cherry aroma and taste. The taste was smooth. The finish offered mild tannins.
Dessert Wines
Vin de Glace 2007, an ice wine style was produced from 100 percent estate grown Muscat Ottonel. The result was an aroma of perfume and floral. The taste had orange nuances and the finish was fruity.
An "up and coming chocolate" creation is an infused port-styled wine. It is called Vin au Chocolate. The wine had a very light pink color. The aroma was of chocolate and the taste was very chocolately. The finish was crisp and clean.
Enjoy a visit to Garfield Estates Vineyard & Winery where you can taste handcrafted wines. The views of Mount Garfield and the Bookcliffs are stunning.
Garfield Estates Vineyard and Winery
3572 G Road
Palisade, Colorado 81526
website
for more information
GPS: 39° 06.403' W108° 23.411'
---
Visit this Colorado lodging facility that partners with Wine Trail Traveler.
| | | | |
| --- | --- | --- | --- |
| | | | |
| | Spero Winery | Wine Country Inn | |
| | | | |