DeBeque Canyon Winery
by
Kathy Sullivan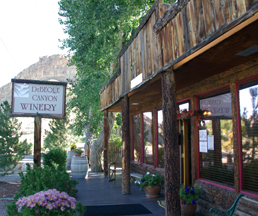 Summary: : DeBeque Canyon Winery's tasting room is located close to Interstate 70 and offers a friendly tasting experience. Frequently the winery is the first winery people stop at coming from the East. As their wines tend to be classic, dry style wines, the staff is happy to give directions to other wineries in the area to accommodate sweeter palates.
The love of wine and vistas led Bennett, a geologist, and Davy, a nurse, to move to Palisade in 1986 where they purchased a vineyard. DeBeque Canyon Winery is the result of Bennett Price's interest in geology and agriculture. His original interest began in the 1970's with home winemaking and friends.
The Prices increased the size of the vineyards. Today, they have just under 10 acres on Rapid Creek and lease other vineyards. As a result of Bennett's early experience with a vineyard in the Palisade area of Colorado, he became involved in the consulting, designing and installing of other vineyards in Palisade. In 1997, the Prices began their own winery. According to Carol Pellowski, a tasting consultant, the winery produces 5000 cases.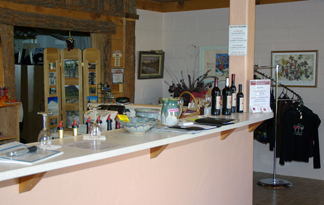 The tasting room has log-faced siding and tree bark adds a rustic look inside and out. Large windows take advantage of the beautiful views of the Bookcliffs and Grand Mesa. The building was at one time a fruit stand. This area is at an elevation of 4600 feet and considered the high desert.
Visitors to the tasting room will discover that the focus of Bennett's wines is to make traditional, classic wines. Bennett emphasizes the red wines and oaks them a long time. Bennett will not release a wine until it is ready. He believes that it's not about production, it's about taste.
White Wines
Chardonnay 2004 offered an apple and pear with oak aroma and taste. The finish was crisp with fruit yielding to butterscotch.
Viognier 2006 had a first aroma of floral followed by fruit. The taste was crisp and the finish lingered. Consider pairing with fish and chicken.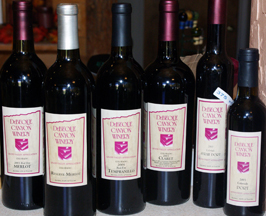 Red Wine
Red Fox Merlot 2003 had an intense toasty and fruity aroma. The taste was fruity and lingered on the finish.
Reserve Merlot NV was oaked for five years. The grapes were from the Rapid Creek Vineyard. The aroma offered blackberry, cherry and jam nuances. The taste was of fruit and raisins. The aftertaste was fruity. The finish was crisp with mild tannins.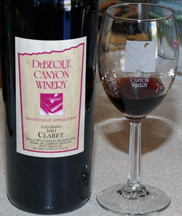 Claret was a blend of 49 percent Merlot, 40 percent Cabernet Sauvignon, 4 percent Malbec, 4 percent Cabernet Franc and 3 percent Petit Verdot. The color was a deep reddish purple. The taste was fruity, lingering on the finish. The tannins were mild.
Tempranillo 2005 had a cherry fruit nose. The taste was smooth and the finish was crisp with mild tannins.
Port
Colorado Port 2003 was sweet with a smooth taste and lingering finish.
Syrah Port 2003 had a pepper with cedar nose and taste. The finish was sweet but not overly sweet.
While this winery concentrates on producing quality wines, be sure to enjoy browsing the gift items available. Items available include wine accessories, wine books, gourmet foods, ceramic serving dishes and t-shirts.
Enjoy your visit to DeBeque Canyon Winery tasting room.
DeBeque Canyon Winery
3943 Hwy 6
Palisade, Colorado 81526
GPS N 39° 06.758' W 108° 19.309'
---
Visit this Colorado lodging facility that partners with Wine Trail Traveler.
| | | | |
| --- | --- | --- | --- |
| | | | |
| | Spero Winery | Wine Country Inn | |
| | | | |